All About Explorers: Part 4 — GUITAR!
We love the fall here at the Omaha Conservatory because it means our campus is bustling with activity! Whether you're here for lessons, chamber ensembles, String Sprouts classes, or just grabbing a cup of coffee at The Gig, we are inspired by the energy and musical excitement happening all around us. You can check out the full list of what's happening here on our Cass St. campus and around town on our website.
Today on the blog we're featuring another one of our amazing Explorers classes—Guitar Explorers! As we mentioned in our previous post, this blog series highlights FIVE of our spectacular Explorers classes. Each Explorers class is perfect for beginners of all ages, designed to introduce you to the basics of instrumental technique and various styles and genres of music. Take a peek at all of the Explorers offerings as well as other classes available at the Omaha Conservatory here.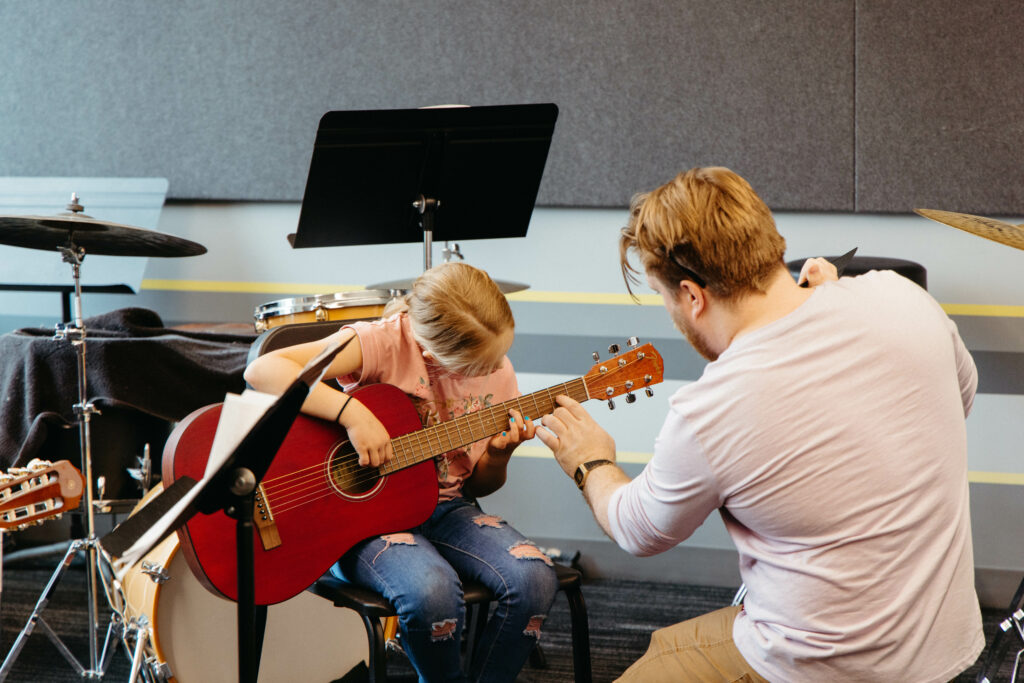 Next up — Guitar Explorers!
What is Guitar Explorers?
Similar to Ukulele Explorers, Guitar Explorers is hands-on class that will introduce students to the basics of playing the guitar. Students will start with basic guitar technique, strumming patterns, chords, leads, notation and tablature, and will eventually be able to strum through some of their very favorite songs, all in an enjoyable, supportive, and engaging group environment.
Whether your dream is to play like the classical icon Andrés Segovia or just play along with your favorite pop or rock tunes, this class is the place to start!
Why should I enroll, and what will I learn?
Students will learn proper guitar playing technique, including holding, tuning and various forms of strumming the guitar. Participants will also learn basic chords (C Major, G Major, E Minor and D Major), practice reading notation and tablature and apply their knowledge to eventually play their favorite songs on their own!
Guitar Explorers keeps the material fresh every week, ensuring that the class atmosphere is fun and pressure-free for everyone. Students will leave with a solid foundation of beginner skills, be prepared for future advanced classes, and be a part of our great community at the Omaha Conservatory.
Who is Guitar Explorers for?
This class is for any student ages 9-12 and adults ages 18+ looking to to explore the guitar in a low-pressure, engaging class environment. Guitar Explorers is 100% beginner-friendly – no experience necessary! All you need is a great attitude and eagerness to learn. Guitar Explorers is also a prerequisite for Famous Strums 101 and eventually Rock Lab, so this class is also perfect for students with rock and roll band dreams for the future.
Which styles of music will be featured in the class?
In addition to learning how to hold, tune, and strum the guitar in a wide variety of styles, students will get to apply their knowledge to their favorite songs of any genre….from The Beatles to Villa-Lobos! Other styles include pop, rock, traditional, Americana and more.
Are instruments provided for this class?
Instruments are not provided for this course. An appropriately-sized acoustic guitar is required (see your local store for sizing). No electric guitars, please!
When and what time?
Fall trimester runs from October 1—November 19. Guitar Explorers meets at the following time(s):
Wednesdays (ages 9-12) from 5–6 p.m.
Wednesdays (ages 18+) from 6–7 p.m.
How much?
$140/8-week trimester.
We proudly offer financial aid to ensure access to musical excellence for anyone. To apply for financial aid for Keyboard Explorers, please begin by completing this form!
---
Learn more, explore all of the details, and ENROLL TODAY in Guitar Explorers by visiting us on our website!