All About Explorers: Part 3 — KEYBOARD!
Happy September, Omaha Conservatory community!
The excitement of the fall season is upon us, and we can't wait for all of the amazing events, performances and more the coming months will bring. To stay up to date with all things OCoM, keep an eye on our events calendar and social media profiles and be sure you're signed up for the monthly newsletter.
We're back with another blog feature on one of our super-duper Explorers classes and this time we're talking all things Keyboard Explorers! Watch this space the next few weeks to learn a bit more about the rest of our awesome beginner-friendly Explorers classes.
Onto the keyboards!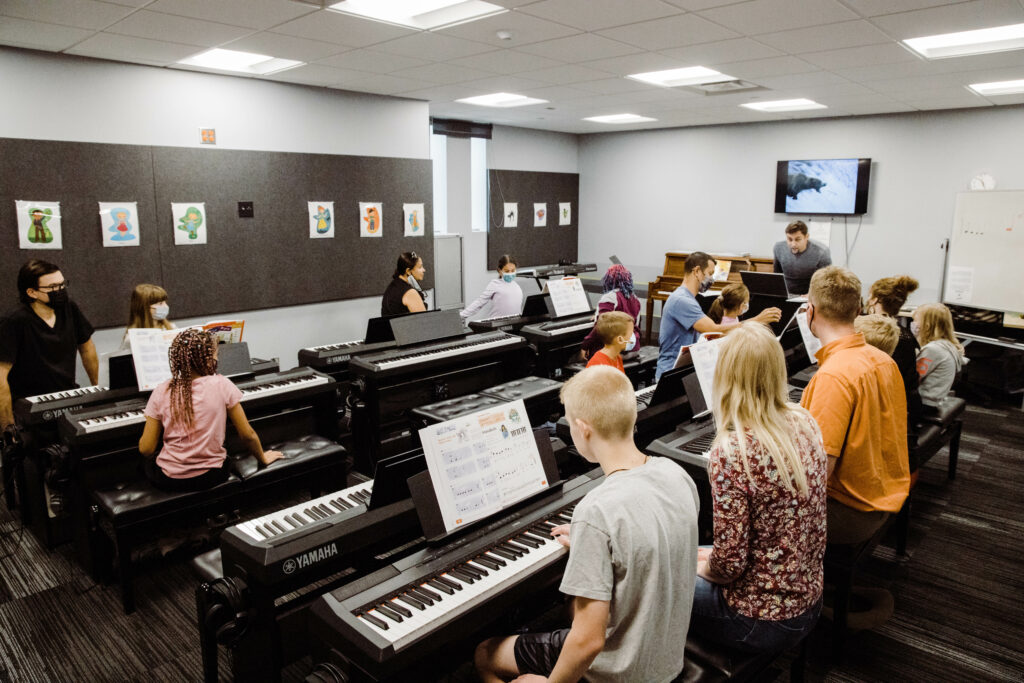 What is Keyboard Explorers?
Keyboard Explorers is a fun and interactive class introducing beginner students (including adults!) to the basics of playing the piano. Students enjoy a fun, engaging curriculum that prepares them for their next steps in music learning all in an exciting and supportive environment.
Why should I enroll, and what will I learn?
Students will learn proper playing technique, basic rhythms, practice reading music, explore composers and interesting music history, play together as an ensemble, investigate the different sounds the piano can make, learn both familiar music and new tunes, try their hand at improvising, and participate in ear training activities. With new techniques, ideas, and material every week, students will enjoy the consistently fresh and fun class atmosphere, and will leave with a solid foundation of beginner skills. Students will also be prepared for future advanced classes and be a part of our great community at the Omaha Conservatory.
Who is Keyboard Explorers for?
This class is for any student ages 5 and older (including adults) looking to to explore the piano in a fun, low-pressure group environment! Keyboard Explorers is totally beginner-friendly. That means no experience necessary—just bring a great attitude and eagerness to learn! For children ages 5-7, caregiver attendance is mandatory in class. Caregivers, this is a truly incredible opportunity to learn alongside your child.
Are instruments provided for this class?
Classes take place in the Omaha Conservatory's state-of-the-art keyboard lab at our Cass St. campus. However, families are highly encouraged to have a piano/keyboard (with at least 61 keys) for at-home practice.
When and what time?
Fall trimester runs from late September 29–November 19. Keyboard Explorers meets at the following time(s):
Level 1 Thursday / 5:30–6:15 PM (age 5-7)
Level 1 Thursday / 6:15–7 PM (adults age 18+)
Level 1 Saturday / 9:45–10:30 AM (age 5-7)
Level 1 Saturday / 10:30–11:15 AM (age 8-10)
Level 1 Saturday / 11:15 AM–12:00 PM (age 8-10)
How much?
$140/8-week trimester.
We proudly offer financial aid to ensure access to musical excellence for anyone. To apply for financial aid for Keyboard Explorers, please begin by completing this form!
---
Learn more, explore all of the details, and ENROLL TODAY in Keyboard Explorers by visiting us on our website!