April 2nd is World Autism Awareness Day!
Spring is here, as is the arrival of the month of April! April 2nd is World Autism Awareness Day, and the official launch of World Autism Month! Sanctioned by the United Nations and celebrated every year in April, organizations all over the world celebrate World Autism Month by "sharing stories and providing opportunities to increase understanding and acceptance of people with Autism Spectrum disorders, fostering worldwide support." (www.autismspeaks.org) If you're interested in learning more about initiatives, fundraisers, or if you're looking to explore educational resources that help support people with autism, we encourage you to visit the websites of the National Autism Society, National Autism Association, Autistic Self-Advocacy Network, and even the Autism Society of Nebraska!
The following blog post was written by piano/composition/music theory Artist-Faculty Dr. Stacey Barelos, pictured below with her student who has a spectrum disorder. Join us in spreading awareness, acceptance, and celebrating those with spectrum disorders all over the world this month!
---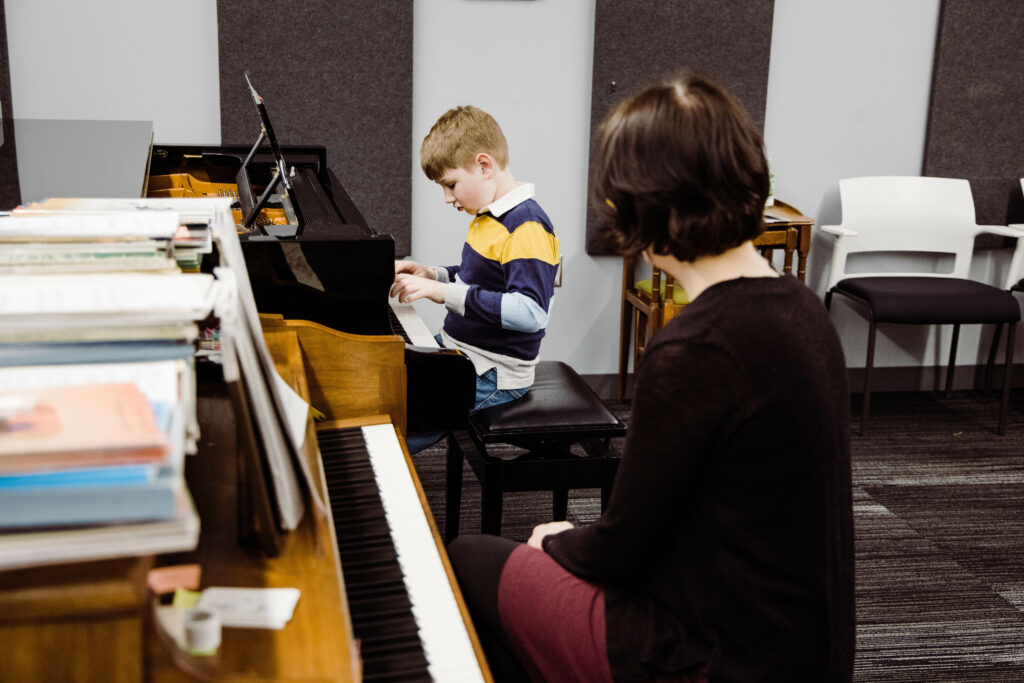 "The experience of Autism is not one thing. It is many things." Autism or Autism Spectrum disorder is defined as "a developmental disorder of variable severity…characterized by difficulty in social interaction and communication and by restricted or repetitive patterns of thought and behavior." Many famous people have been diagnosed with some sort of spectrum disorder: Dan Akroyd, Darryl Hannah, Anthony Hopkins, Susan Boyle and Elon Musk, to name a few. Additionally many historical figures have been suspected to be on the spectrum: Albert Einstein, Michelangelo and even Mozart and Beethoven! (Of course, we can't know for sure. Autism was first diagnosed in the 1950s.)
While having a spectrum disorder does not mean a person will be gifted musically or otherwise, there is a wealth of research documenting the benefits music can provide for those with autism. We are lucky to have several wonderful autistic students at the Omaha Conservatory! For anyone interacting with those on the spectrum, keep in mind that there is no "one size fits" model. The spectrum includes a wide array of highly functioning people to those who need significant assistance daily. Every individual will have different strengths and struggles. Most of those with autism, particularly students, react more positively to direct language. Rather than asking "What do you want to do today?", simply try, "Let's play this piece." Also, it is important to avoid idioms and figurative language. Phrases like, "I'm all ears" will be confusing.
Leave your ego at the door. What we expect of "manners", may not be the same to autistic students. If you're waiting for autistic students to show they are listening or give you a thank you, you may be disappointed. That being said, it's so fun to share in the successes with autistic students, as many will be eager to show what they can do!
Written by Dr. Stacey Barelos