Things I Learned as a Suzuki Student that I Still Use Today: Q&A with Liz Huett
Did you know that in addition to traditional lessons and group classes, we offer Suzuki Strings programming? Now you do! Students enrolled in Suzuki Strings participate in weekly individual lessons as well as weekly repertoire classes with peers studying at the same level, and many students choose to participate one or more of the many additional group class offerings at the Conservatory. Caregivers also participate in a 4-week home teacher class designed to help prepare the family for a successful musical journey. And the best part: taught by our spectacular Suzuki-trained instructors!
---
This Q&A-style blog post features a very special member of our Conservatory community, String Sprouts Coordinator Liz Huett! Liz works tirelessly and valiantly with our String Sprouts program, helping manage over 900 Sprouts students (and their instruments!) across the Omaha Metro Area and beyond. In addition to helping the String Sprouts program grow & succeed, Liz—a violist—has a robust musical background herself, having started studying the viola in a Suzuki strings program at 5 years old! Liz's Suzuki experience is also multi-generational, now having passed on the legacy of Suzuki learning to her children who both participate in Suzuki programming right here at the Omaha Conservatory! As a student herself, as a parent, and also as an arts administrator, Liz obviously brings a wide range of perspectives and experiences to the table, and we thought it would be great to sit down with her to hear more about everything she's learned all these years—including all of the "lessons" she still keeps with her today.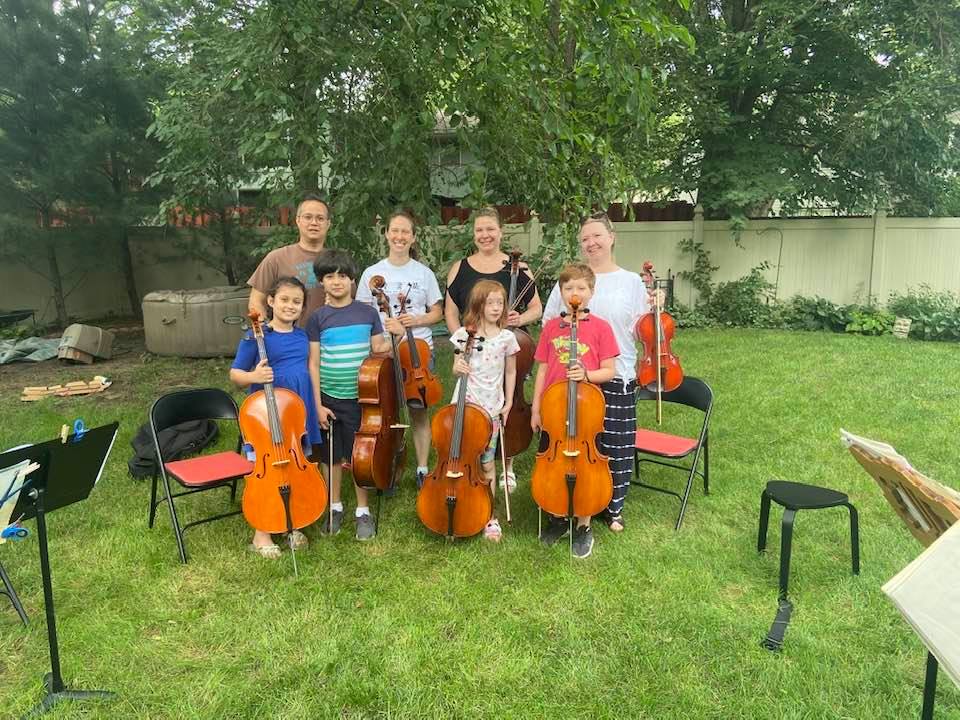 Q: Tell me a bit about your musical background, and how the Suzuki method fit into your training.
A: I love telling my viola origin story! I started on viola when I was 5 years old at the Preucil School of Music in Iowa City. In 1983, Bill and Doris Preucil were writing and recording the Suzuki Viola School books, and Bill was asked to do Suzuki Teaching Training for the beginning levels. He was a college professor and had never actually started any beginners himself, so they were on the look-out for brand-new viola students. When my mom called to ask about lessons for me, Doris said, "The world could always use another good violist!" and I was enrolled as one of Bill's beginners (along with my friend Brad Ottesen, who is now a professional violist at Utah State). The Preucil School was a strictly Suzuki strings school at that time, so I am all Suzuki, all the way.
Q: Do you have any memorable moments that related to your Suzuki/musical training? How do you think these shaped your growth?
A: My BFF and I made our own recital when she finished viola book 2 and I finished viola book 3. We chose our pieces and wrote a little skit to go along with them, and my friend's mom printed up a program for us. It was so fun to have the auditorium all to ourselves.
As an adult, when I play a Suzuki piece, it feels like talking to an old friend. That goes double for when I play Suzuki pieces with actual old friends! I get an extra charge when I hear a piece that I haven't played for years and then pick up my viola to find that I still have it memorized. There's a good physical feeling that goes along with accessing the parts of my brain where that information is stored.
Q: Can you think of any examples where you've used skills, lessons, or knowledge you learned as a Suzuki student in other parts of your life, at any point?
A: I'm most comfortable when I have a routine, and the Suzuki Method taught me that I can create that environment for myself whenever I want. Setting my kids' practice time at the same time every day helps all of us by removing the question of when to practice, which helps us remove the question of whether or not to practice.
Q: What made you decide to enroll your children in Suzuki programming?
A: I wanted them to share in the love for music that I've enjoyed my whole life. I also wanted us to be able to play together, which we do all the time.
Q: Are there any instances where you find yourself practicing Suzuki principles throughout your daily life or work?
A: The idea of immersion as passive learning has been a large part of my parenting philosophy. Young children will absorb whatever you expose them to, and parents have a considerable amount of control over that. In the Suzuki Method, the active part of that is immersing your child in music, but the principle applies to all parts of life, including how you treat other people and how you expect other people to treat you. 
Q: From a parent's perspective, what about the Suzuki method makes learning music special? What can parents expect their students to learn through Suzuki training?
A: Suzuki training builds a special kind of music community specifically because it's fairly regimented–everyone is learning exactly the same pieces, in exactly the same order, which gives the students nearly constant opportunity to play together. As an adult, I feel a kinship with other former "Suzuki kids" because we have that shared cultural experience, even if we don't share much else. That holds true no matter how our musical life is going right now, whether we're professional musicians, amateur musicians, or don't play much these days.
---
Interested in learning more about Suzuki Strings at the Omaha Conservatory? Explore our website here! If you or your student is ready to dive into the exciting and expansive world of the Suzuki method, Omaha Conservatory of Music's Suzuki Institute is a great opportunity—join us for a six-day immersive experience where Suzuki string students, families, and teachers come to expand and deepen their knowledge and playing with internationally renowned Suzuki teachers.