Strike a Chord with Keyboard Explorers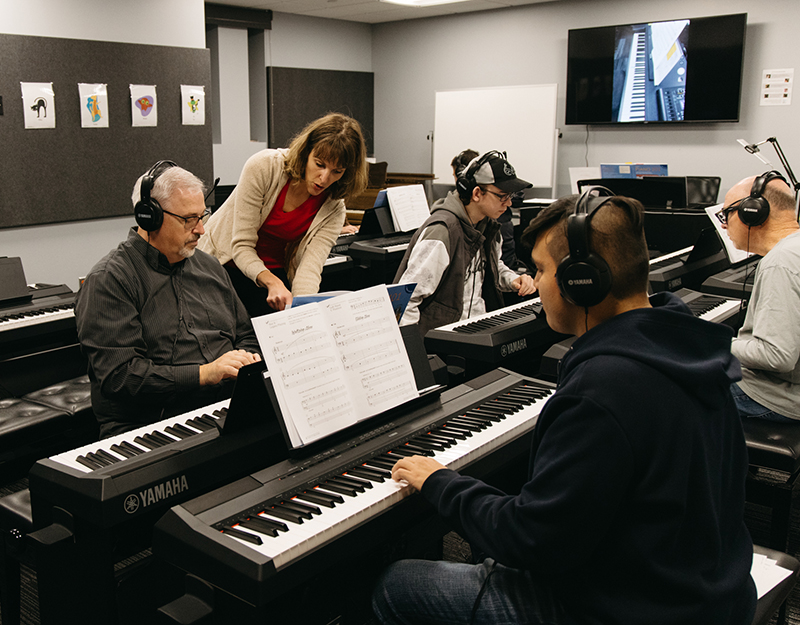 Learning a new instrument can be challenging – make it easier and more fun with our group classes! OCoM's Keyboard Explorers group class introduces you to the basics of piano in a welcoming, low-stress environment.
Who can register for Keyboard Explorers?
This group class is designed for piano students ages 5+. No prior musical experience is required, but we do require a positive attitude and an enthusiasm to learn.
Are instruments provided for this class?
Yes! Classes will take place at our Keyboard Lab. For at-home practice, families are highly encouraged to have a piano or keyboard with at least 61 keys.
What techniques and styles are taught within classes?
Click here to see what techniques are taught in each class level!
When and what time does Keyboard Explorers take place?
Our fall trimester runs September 28–November 18. Every Keyboard Explorers class meets once a week. The classes are divided by age and day of the week as listed below:
Level 1:

Ages 5-7 | Thursdays at 4:45 – 5:30 p.m.
Ages 5-7 | Saturdays at 9:50 – 10:35 a.m.

Ages 8-10 | Thursdays at 5:35 – 6:20 p.m.
Ages 8-10 | Saturdays at 10:40 – 11:25 a.m.
Ages 18+ | Thursdays at 6:25 – 7:10 p.m.

Level 2:

Ages 5-7 | Fridays at 4:45 – 5:30 p.m.
Ages 8-10 | Fridays at 5:35 – 6:20 p.m.

Level 3:

Ages 18+ | Thursdays at 7:15 – 8 p.m.
Caregiver attendance is mandatory for students ages 5-7 and strongly recommended for students ages 8-10. Students with prior musical experience should contact classes@omahacm.org to determine the appropriate class level.
How much do classes cost?
$140 for an 8-week trimester. We proudly offer financial aid to ensure equal opportunity to musical education. To apply for financial aid, please fill out this form!
Why should I enroll in this class?
Our group classes are the perfect opportunity to learn a new instrument! By connecting you with other beginner musicians, we create a positive learning environment where students feel proud of their achievements. Plus, our group classes are more affordable than our individual lessons. Sign up for Keyboard Explorers today using the form on this page!