Frets in the Fall: Guitar Explorers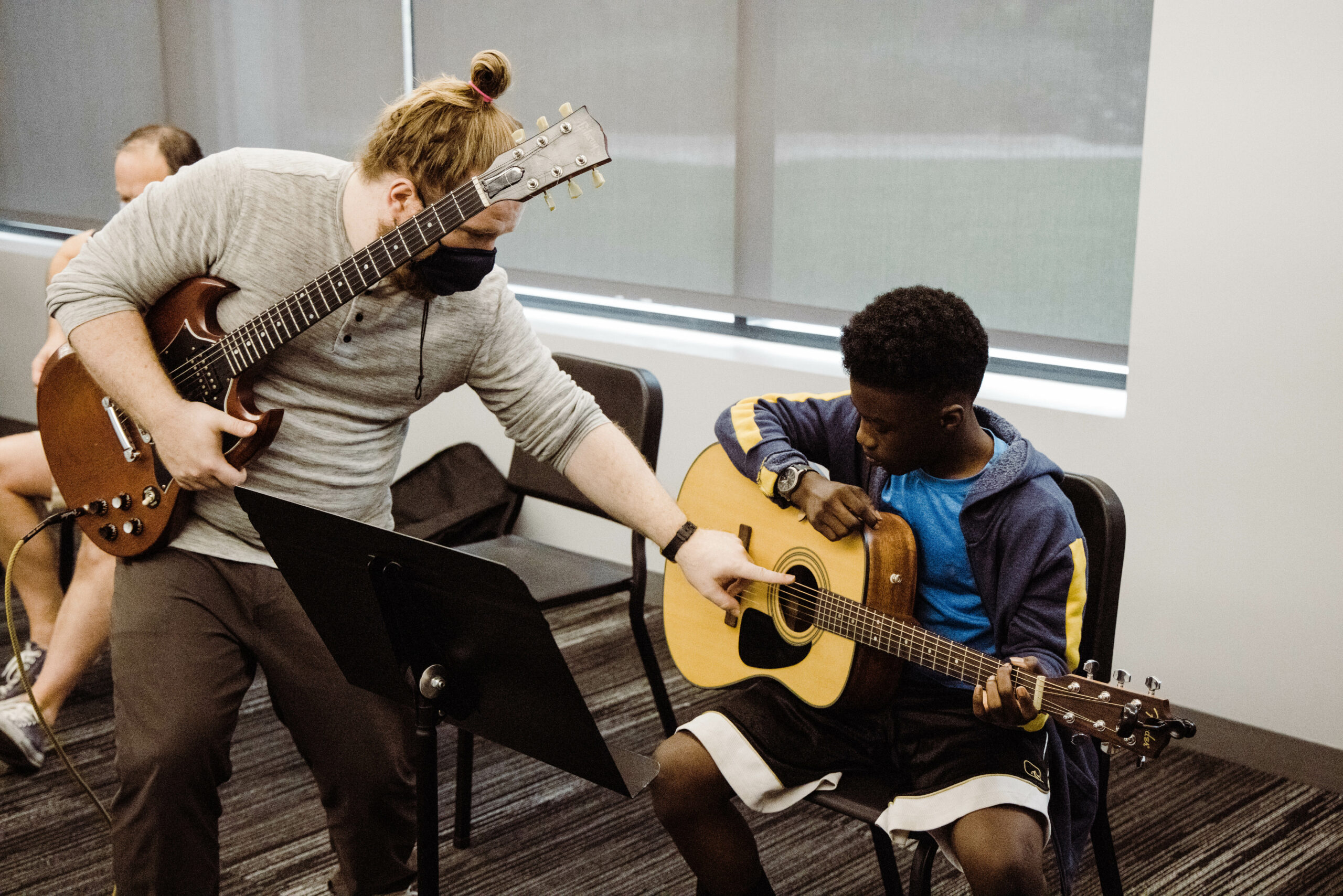 Omaha Conservatory of Music is the perfect place for all musicians, regardless of skill level, to learn a new instrument. Guitar Explorers is ideal for beginners of all skill levels to learn the key elements of guitar within a low-pressure and fun group setting!
Who can register for Guitar Explorers?
This class is specifically designed for students ages 9-12 and adults ages 18+. No previous experience is necessary for this class, but an eagerness to learn and a positive attitude are required! Guitar Explorers serves as the prerequisite for our Famous Strums 101 and Rock Lab classes, making it the perfect foundation for those looking to become the next Eric Clapton or Joan Jett.
Are instruments provided for this class?
Instruments are not provided for this course. An appropriately-sized acoustic guitar is required. (No electric guitars please!) If you are wondering what size acoustic guitar is best for you, check your local store for sizing assistance.
What techniques and styles are taught within classes?
Students will learn how to properly hold and tune their instruments while learning basic chords (C Major, G Major, E Minor and D Major), how to read notation and tablature, strumming patterns, chords and leads, all within an immersive and welcoming environment. A variety of songs, from Beatles hits to Americana tunes to traditional folk songs are also taught!
When and what time does Guitar Explorers take place?
During the fall trimester, our fall classes meet every Wednesday from September 27th to November 15th. Students ages 9-12 will meet from 5-6 p.m., while adults ages 18+ will meet from 6–7 p.m.
How much do classes cost?
$140 for an 8-week trimester. We proudly offer financial aid to ensure access to musical excellence for anyone. To apply for financial aid, please fill out this form!
Why should I enroll in this class?
Our group classes are less expensive than our individual lessons and involve less commitment. Guitar Explorers is the perfect place to get to know fellow guitarists and become part of the engaging community of OCoM musicians. Who knows, your next gig could be with the friends you make at Guitar Explorers! Sign up for Guitar Explorers today using the form on this page!