Caregiver Corner: Resources for Supporting Your Student Musician @ Home!
Summer is so close, we can almost taste it! Exciting things are happening in the upcoming months—you can check out our jam-packed calendar, visit our summer camp or classes pages to get started, or contact us with your questions!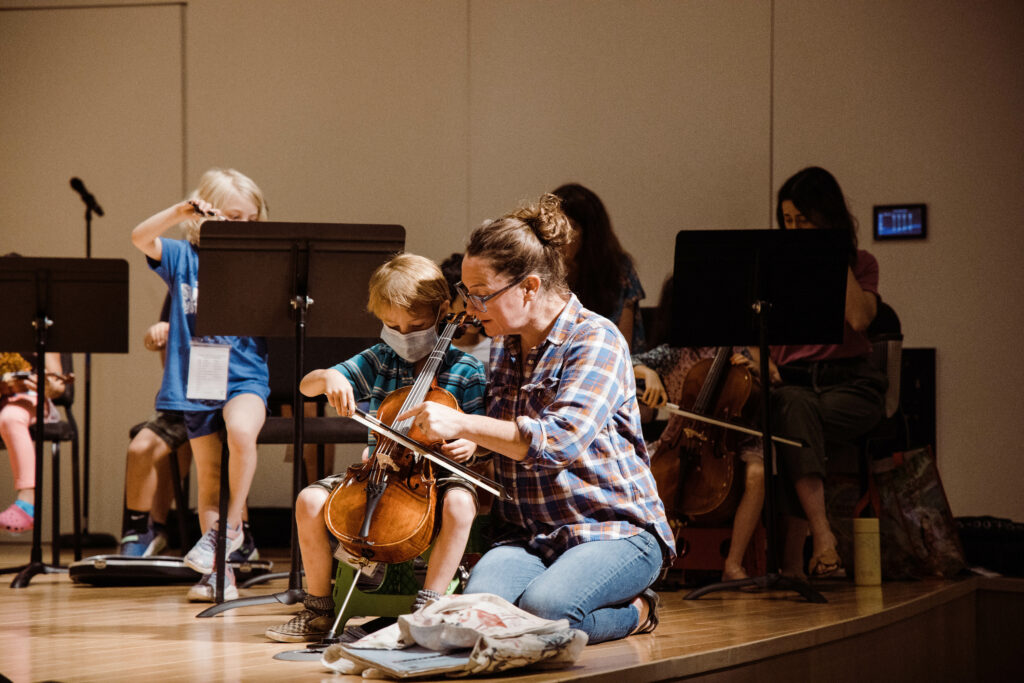 With summer on the mind, the blooming trees and green grass have us thinking about how musical learning shifts during the warm months—school is out, many students are adjusting to new routines, and it is sometimes difficult to find time for mindful, consistent practice when the sun is shining outside. (On that subject, check out our most recent Teacher Tip from violin Artist-Faculty Tyler Roberts!)
In addition to finding time to practice carefully and consistently during the summer, maintaining a robust practice routine at home when the structure of the school year is absent is a challenge in itself. Caregivers, this is where you come in! Have you ever wondered how you can best support your musician at home during the summer, outside of school orchestra rehearsals or their regular individual lessons, or how you can just simply make home practice FUN and engaging through the unique challenges of the summer months? Check out the following resources for some great tips, motivation, and guidance!
Author, teacher, and podcaster Christine Goodner may as well be the queen of home practice—peruse her amazing website for TONS of fun resources, an amazing e-mail course, some free book chapters, and lots more. A true gold mine of information!
Also by home practice guru Christine Goodner, have a listen to this amazing podcast! The vast array of topics, esteemed guests, and approachable tone makes this an incredible resource for caregivers. Some of her episodes even feature Omaha Conservatory Artist-Faculty—the most recent being "Community and Supporting Parents/Caregivers" with violin/viola Artist-Faculty Grazzia Rode-Sagastume!
Wanting to get your student engaged and excited about practicing at home? Don't underestimate the power of stickers, charts, dice, and more! When practicing feels like your favorite game, it's easy to make it a part of your daily routine. This website has a huge selection of fun practice tools, including rhythm die, key signature spinners, bead counters, and honestly just about everything you could imagine needing to make practice FUN!
The Music Teacher's Little Guide to Big Motivation by Ruth Meints
Every caregiver is a teacher at home, and this book brings stellar tips to the table when it comes to sparking enthusiasm—a necessary ingredient to successful at-home practice! Written by our very own Executive Director Ruth Meints, every caregiver should have this book on their shelf!
Nurtured by Love by Shinichi Suzuki
Legendary pedagogue and founder of the Suzuki Philosophy, this book by Dr. Suzuki encourages treating practice as a time for discovery and experience, guiding students to learn for themselves. A must for any teacher, caregiver, and student alike!
How to Talk so Kids Can Learn by Adele Faber and Elaine Mazlish
Communication and dialogue are cornerstones of at-home musical learning, and this book features an immense amount of insight into helping form self-disciplined, self-motivated learners at home and in school!