Try New Tempos with Tuneful Tots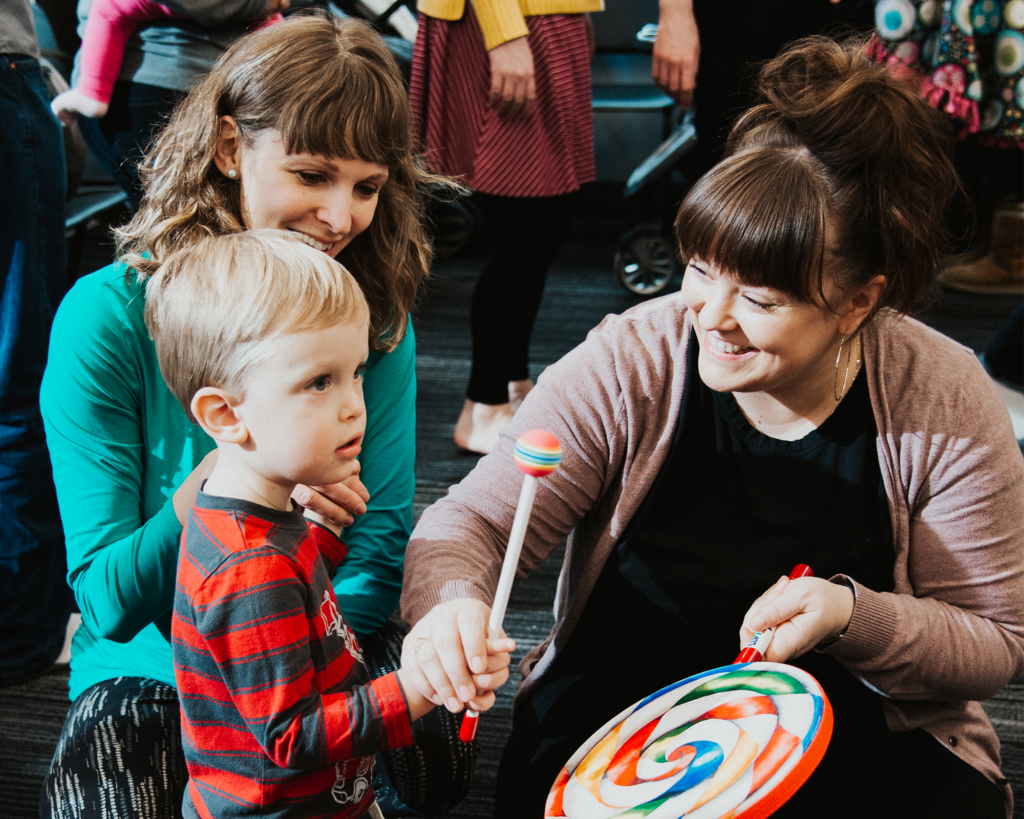 In our digital age, it can be overwhelming to find the perfect tool to give your child the best foundation for a happy, healthy life. When searching online, it seems as if there are hundreds of different opinions about what is best for your little one's early development. Here at OCoM, we want to create the perfect opportunity for children and their Caregivers to connect on an emotional level and establish skills that will aid them for the rest of their lives. Our Tuneful Tots group class helps to connect you with your young one through one of the best tools in early development – music!
Who can register for Tuneful Tots?
This group class is tailor-made for children ages 0-4 years old.
Are instruments provided for this class?
Yes! A variety of percussion instruments, including drums and triangles, will be used to introduce little ones to a whole new world of sound.
What techniques and styles are taught within classes?
Using the Suzuki Early Childhood Education curricula, children and their Caregivers will learn fun rhymes and songs taught through interactive and fun games. These techniques lay the perfect foundation for children to learn skills in active listening, teamwork, social awareness, creativity and musical expression.
When and what time does Tuneful Tots take place?
Our fall semester runs from September 15–December 8. Every Tuneful Tots class meets once a week. The classes are divided by time and day of the week as listed below:
Fridays: 10:00–11:00 a.m.
Saturdays: 9:00–9:55 a.m. (class is now full – please join the waitlist)
Saturdays: 10:05–11:00 a.m.
Saturdays: 11:10 a.m.–12:05 p.m.
Caregiver attendance is required for every group class session.
How much do classes cost?
$190 for a 12-week semester. We proudly offer financial aid to ensure equal opportunity to musical education. To apply for financial aid, please fill out this form!
Why should I enroll in this class?
Pre-k children who are introduced to music display accelerated brain development and cognitive function. In addition to these amazing benefits, children and their interactions with music are simply adorable! This group class provides the opportunity of connecting with other parents in addition to creating a stronger connection with your child. Sign up for Tuneful Tots using the form on this page!