Resource Roundup: What's In Your Musical Toolbox?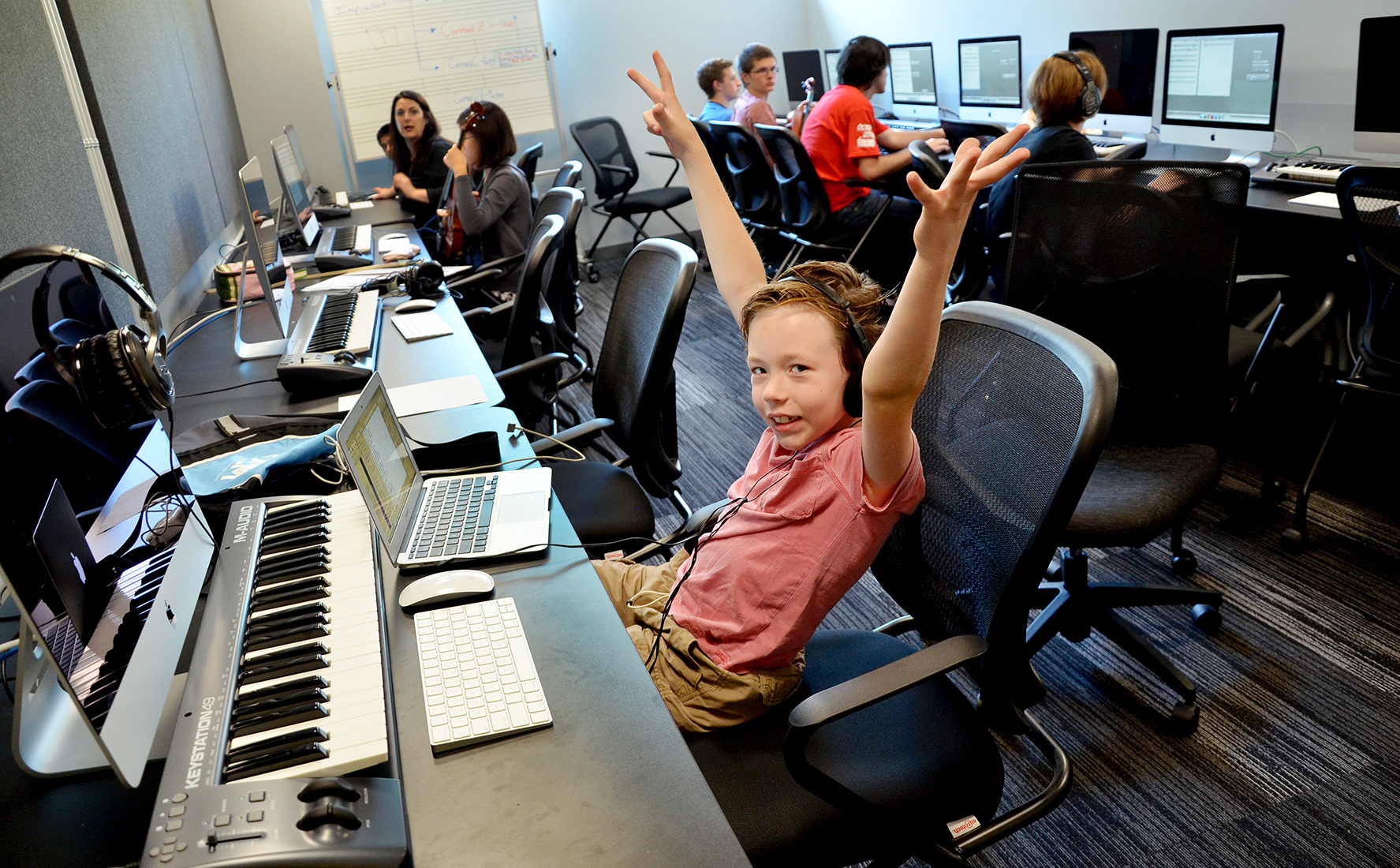 The excitement is palpable and musical inspiration is at an all-time high at the Omaha Conservatory this week—SoundWaves is here! Students and Guest-Artist Faculty arrived this past Saturday for check in, orientation, and an invigorating Welcome Concert. Camp is off to an amazing start and we can't wait for all of the energizing musical experiences that await throughout the rest of the week!
Camp week is inspirational and exciting for many reasons, but we think that all of the learning and growing opportunities are one of the best. As musicians, we are constantly looking for more ways to cultivate our skills, sharpen our mental aptitude, hone our practice habits, and challenge ourselves to reach upwards and outwards as artists; however, it can sometimes be tough to reinforce musical skills or engage with our art form in engaging, practical, and accessible ways. In the spirit of the multitude of learning and growing opportunities that are ever-present at camp, we thought it could be fun and helpful to compile a list of resources—or "tools" as we like to call them—that can challenge you, inspire you, or serve simply as a convenient and accessible resource. We've highlighted a wide range of these digital tools in order to include all age and ability groups, from playful games to more advanced resources. We think that musicians can NEVER have too many tools in their toolbox, after all! Keep scrolling to check out the list.
---
This website is a game changer! If you're wanting to practice your fundamental music reading and music theory skills, find some ear training exercises, or even calculate an interval or chord, look no further. The site also offers a tempo tapper, staff paper generator, pop-up piano, and a whole collection of interactive and helpful music theory lessons (from clefs to Neapolitan Chords) that serve as spectacular tools for musicians of any level. Teachers can even customize exercises for their students in the "Exercise Customizer." All of the content on this browser site is completely free, but you can also easily take all of the website content on the go with their mobile app (Tenuto) for $3.99 if you're interested in a mobile version
---
Teoria is yet another amazing music theory tool and resource for musicians. You can find exercises or educational videos on many music theory topics, as well as a fun "Today in Music History" daily update.
---
This incredible website allows you to see, hear, and experience the esteemed London Symphony Orchestra in brand-new, interesting ways. Choose a performance and experience the music from the best seat(s) in the hall—musicians and music lovers of all ages will love this awesome listening tool! We are partial to Elgar's heartfelt Enigma Variations conducted by the incomparable Sir Simon Rattle. Make sure to also check out the other educational resources under the "discovery" tab on the LSO Website.
---
International Music Score Library Project (IMSLP): Petrucci Music Library
This resource is no secret to many musicians, but it is such a great way to check for readily available and virtually accessible public-domain music scores released under a Creative Commons license. IMSLP has over 495,000 scores and 59,000 recordings for over 152,000 works by over 18,000 composers! If you're looking to quickly reference a full score, find a recording, or look if there is another edition for your solo piece, IMSLP can be a helpful and thorough resource to utilize for your performing and practicing.
---
The Practice app is a super simple way to track how often you practice and for how long. Set goals for how long you want to practice a certain piece across each week or month, earn badges, and stay motivated through the metrics and analytics provided by the app. Plus, it's free! Look for it on the App Store or Google Play!
---
InsTuner is a free, chromatic tuner app that is great for tuning your instrument on the go, or even for slow intonation practice. Look for it on the App Store or Google Play!
---
The Metronome by Soundbrenner (App)
One of the most useful and helpful tools for a musician is their metronome, and this app is a free way to always have one with you. We love the features on this app that allow you to customize your tempo, downbeats, subdivisions, etc. Find it wherever you download your apps!
---
The New York Philharmonic Education Tab
From one of the greatest orchestras in the world, this website is full of fun and educational content! Make sure to check out the famous "Young People's Concerts" available for on-demand streaming, but also take advantage of the amazing digital resources that this website has to offer. Playful, interactive tools, amazing classroom and studio resources for teachers, and other learning resources for all ages.
---
The New York Philharmonic KidZone
Perfect for younger children or those who are becoming acquainted to the orchestra and its instruments, this website is full of games and interactive experiences that are educational and fun.
---
The Juilliard School Manuscript Collection
The Juilliard Manuscript Collection is a truly amazing set of 140 autograph manuscripts, sketches, engravers proofs, and first editions donated to the school by Juilliard Board Chairman Bruce Kovner. Each of the pieces included in the collection have been digitized for performers and scholars to reference and explore right from a computer or mobile device! Amazing, right? One of our favorites is the original manuscript of Mozart's hilarious opera The Marriage of Figaro.
---
MuseScore is a music notation software that is super easy to use and a great alternative to some of the more expensive music notation softwares. Besides just being an awesome tool for any musician to have handy, it's also free!
---
Chrome Music Lab is a fun, interactive website that "makes learning music more accessible through fun, hands-on experiments. Students can explore music as connections to science, math, and other art forms, and the "experiments" work across devices: phones, tablets, laptops, etc.
---
Similar to Chrome Music Lab, Groove Pizza is a fun, interactive way to explore and create electronic beats. Created by the MusEd (Music Experience Design) Lab at NYU, Groove Pizza is a playful tool for creating grooves using math concepts like shapes, angles, and patterns.
---
We hope this post shared some new resources with you to incorporate into you practicing and performing, or maybe gave you access to a tool that helps you learn more about music in a new, enjoyable way. Let us know if and how you use any of these fun websites, apps, or games in your practicing—you can find us on Facebook, Instagram, Twitter, and LinkedIn!