Suzuki Strings @ the Conservatory: Q&A with Executive Director Ruth Meints
The start of the school year is upon us after a fantastic and musically inspiring summer here at the Conservatory! Our summer camp SoundWaves and our first ever Suzuki Association of the Americas (SAA) sanctioned Suzuki Institute and Suzuki teacher training were just a few of the fun events that took place over the last few months, leaving us refreshed, inspired, equipped, and EXCITED to expand our musical horizons this year!
These special summer programs—along with the many other events, classes, lessons, and musical experiences that the Conservatory offers—aim to further our mission and vision to build a diverse musical community, enriching lives through education and performance. This mission and vision strives to serve students AND their families by creating a learning environment that supports the growth of the student from all directions: at home, in their lesson, and in their individual discovery and practice time.
This fall, Omaha Conservatory of Music is thrilled to offer a Suzuki Strings program—built on a philosophy that embodies our passion for creating and providing the quintessential climate for student success—for the first time! Violinist and educator Dr. Shinichi Suzuki realized that all children learn their native language with ease as part of their environmental upbringing, and found that this successful approach to language-learning also revealed a spectacular method for learning an instrument. The Suzuki philosophy, in essence, is this "mother-tongue approach" of immersing the child in music as a second language, but also leads the child on the route to achievement through the support of the student-caregiver-teacher triangle.
As we strive to fulfill our organizational mission and vision through each of our programs and events, the addition of a Suzuki Strings program aids us in supporting students and families on their pathway to excellence in musical studies, no matter their age, ability, or background. In an effort to illuminate and familiarize our community with this new program, we sat down with Executive Director Ruth Meints to talk about her background and training with the Suzuki philosophy and teaching methods, her studies with John Kendall (one of the first American string teachers to observe and study the Suzuki Philosophy in Japan with Dr. Suzuki), her musical upbringing, and how the Suzuki philosophy interacts with existing Conservatory programs.
Q: Tell us a little bit about your experiences as a young violinist—what was your musical upbringing like?
"I started violin when I was 7, and this would've been the early 70s. At that time, the Suzuki philosophy was kind of a rage at that point—there were thousands of kids in Japan playing at mass concerts, and it was a notable trend. A few teachers from the US went over there—one of them being John Kendall who was my mentor. He was one of the first teachers to go over to Japan, find out about the Suzuki philosophy, and bring it back to the United States, mostly to bigger cities. When I was 7, my Mom called the area string teacher, and said "my daughter wants to play the violin, she's 7 years old" and he apparently said "she's way too old!" and then asked if she had another daughter. My Mom said "yes, a 3 year old" and he said "Ok, we'll take that one!" Thankfully my Mom thought that was strange and signed me up with another teacher, so Suzuki was not really in my upbringing. The way I actually got into that was when I was studying at the University of Nebraska-Lincoln and Marilyn O'Boyle was there, and they were offering Suzuki classes…so I took one! And I thought "oh my gosh, this is so great!" Coming from western Nebraska which has very low accessibility of the arts, I would go to the eastern part of the state and just try to observe all of the good things that were happening, and realize that all the Suzuki kids could just play circles around everybody else. They were really comfortable and music was just a part of them. Were there some issues with them not being great [music] readers, it depended, because when the Suzuki philosophy first came to the United States there was a shortage of people to teach reading at the same time. Now that's not an issue, and that myth needs to go away that Suzuki kids can't read, because that's not true! Anyways, I took that opportunity in Lincoln and then was able to move on and study with John Kendall who was AMAZING and inspiring, and I've been trained now in all the Suzuki books and just think it's such a great philosophy."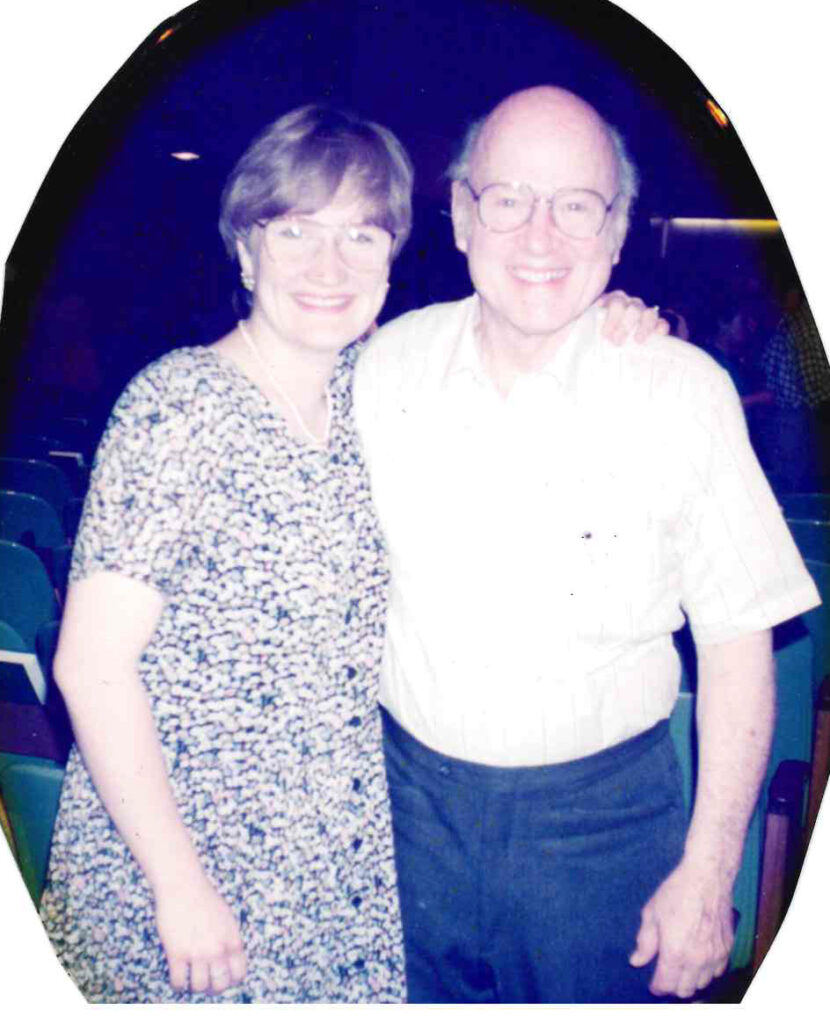 Q: Your master's degree includes an emphasis in Suzuki Pedagogy and it was during that time that you worked with John Kendall, celebrated for being a huge part of why the Suzuki philosophy is in the United States today. What was it like to study with such an important figure?
It was truly incredible—first off, you know, you have lessons where you know you learned something and you get better over time…but I would go into a lesson with him and it was like he thought in outline form. He would say "everything is a concept…once you know a concept you can play anything. You're not learning to play *this piece,* you're learning to play *the violin*." He taught me about the four principles of string crossing, and it was like the most invigorating lesson I had in years and I couldn't believe that string crossings could be so exciting! I asked him once "How do you do that? How are you so enthusiastic about teaching the same principles for 40 years?" and his answer is THE defining thing that teachers need to understand. He said "I've never taught them to you." He made every person feel very special. Him saying that really hits the core of what the Suzuki philosophy represents, that "every child can learn." It doesn't matter what your circumstances are, where you're from, how old you are."
(Photo: Ruth with John Kendall)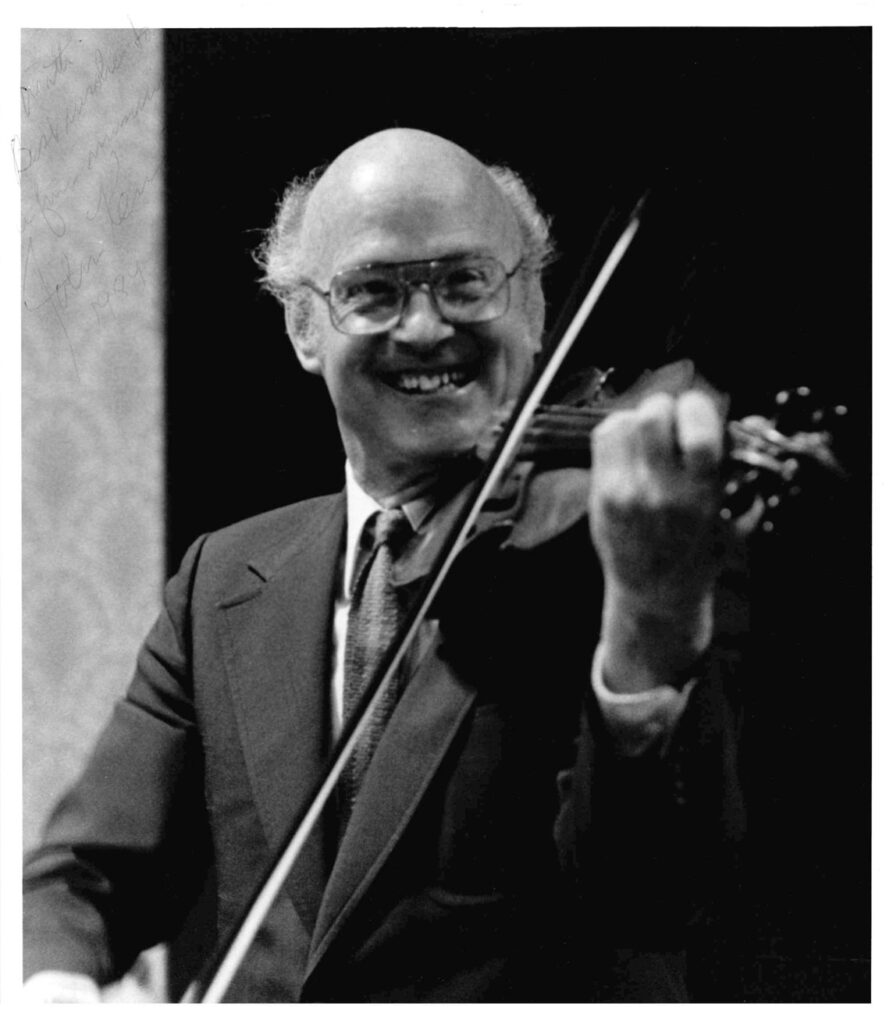 Q: You mentioned John Kendall teaching more "how to play the violin" instead of some specific piece or skill, which also really embodies the Suzuki philosophy element of teaching and nurturing the "whole person" and the "whole musician." How do you think the philosophical element of the "whole person" might be reflected in learning an instrument?
I think this is the essence of "every child can learn," but also every child isn't going to be Itzhak Perlman, so there has to be another reason that every person should experience music education in some way. The overall benefits….Music is in every single culture from the beginning of time until now in some way, shape, or form, so it is a universal thing that we all experience. Teaching the "whole person" music allows us to maximize diversity by finding a way for every single person to experience and become more educated in that area, and it is a tool for getting us further along in our growth culturally, individually, etc. I think that it is educating the whole child, and since the caregiver is so integral to the process—the Suzuki triangle is the parent, the teacher, and the student—think about where else you can do that? I can't really think of another place. Our way of educating is very separate in terms of all three of those elements working together…some kids are homeschooled which is wonderful, some kids go to school in a public or private environment which is wonderful, but you know what the most wonderful thing is? One teacher, one student, and one parent working together very closely on something. THAT develops the full potential of a person.
Q: How has the Suzuki philosophy interacted with your incredible curriculum and program known as String Sprouts: How does the teaching philosophy you developed for Sprouts relate to Suzuki's?
A: So, Sprouts has two primary philosophies that it draws from: the points from Suzuki are that we start really young, there is mandatory caregiver involvement. El Sistema is the other, so that involves going to their neighborhoods because it is easy for them to get to, and also providing an instrument, because in many of the underserved or rural areas it is hard to get those things. Essentially, those four elements came together as String Sprouts. Now, I kind of crystallize Suzuki into four pillars: one is environment, creating a place that is music-rich. What that means is creating an environment that is similar to learning a language…this was Suzuki's big "aha" moment. He realized that every little kid spoke Japanese and was like "how did THAT happen?" If every kid can speak Japanese, that learning environment must be perfect so let's imitate it for music. The environment must be rich in music like it is in language, with people talking all the time, hearing it. If we were in silence as babies we wouldn't learn anything, and that is also why starting early is so important. We have this Tuneful Tots program…every kid should be in Tuneful Tots! The next one is repetition: the repetition of what a child already knows is like when a baby says "Mama" for the first time, you don't just say "ok you said it once, you're good to go, no need to say it ever again!" That repetition sometimes drives parents crazy because kids are singing twinkle in the shower, but it's necessary for kids to make those connections. Seeing, saying, and repeating again and again. The third thing is encouragement…being very, positive and encouraging of all (even small) steps and celebrating effort and attitude. It's a method that acknowledges every tiny step—that's why "every child can learn" because maybe a child sees it takes them a while to learn twinkle, but they still learn it. The last one is refinement: going back and taking a skill and saying "remember that string crossing you learned in Hunter's Chorus? Now you're learning Fiocco Allegro and it has really complicated string crossings, but guess what…it's the same thing! We just need to refine it a bit."
Q: Are there any ways that you find yourself applying Suzuki practices in your everyday life outside of music?
A: I would say that the thing I do the most from those four principles is encouragement. I find myself to a fault saying "you did this so well, what about this?" even when someone is cooking something and I say "this tastes amazing, I wonder what it would be like with a little more garlic" or whatever. That's a teaching strategy, framing things in a positive way, because what is the point in motivating people through fear or making them upset? I would say that's probably number one. Refinement is probably second, because I'm always trying to get better at something, taking a class, reading up on something, etc. Third would be repetition…doing things over and over until I get them right. Last is probably environment, because I actually do not listen to music outside of work because it IS my work. Most of the time at concerts I'm thinking "I wonder if that phrase could've had more shape" rather than listening and enjoying. However, I love going to a musical or a bluegrass concert…that's where I have fun. My "environment" is book-rich, I'd say. I like them to be pretty unrelated, and I try to read from all of them every day and then try to connect it all.
Q: Suzuki Strings at OCM are brand new this upcoming year! OCM also hosted a successful Suzuki Association of the Americas-sanctioned Institute and Teacher Training at the end of July—what does it mean to you to have Suzuki strings here at the Conservatory? What do you think that the organization will gain from having Suzuki strings that it doesn't already have?
A: Our mission statement begins with four magical words: building diverse musical community. That alone means that when you are building something, you're not stagnant. That we are adding things that will attract new people to the organization. We will also be building a more diverse musical community because parents will be involved more….having that caregiver involvement element is so important for the continued growth of the organization, forming multi-generational families of learners. I also think the Suzuki-wide community is of extreme value to us…once you're part of that community, you have access to national teachers that are connected to The Suzuki philosophy would want to come teach here because of The Suzuki program, teachers that are interested in coming to study here themselves. Building community with parents, new students, teachers, guest artists, all of that is really just expanding on what we are already doing in a unique and fun way.
Q: One of the main takeaways of the Suzuki method is that every child CAN learn music—in fact, the first step in teacher training is literally titled "Every Child Can." I remember you telling me at one point that a hugely important pillar of OCM's mission/vision/philosophy is that every person deserves access to music education—I can't help but see some common threads between those two! How have your experiences with the Suzuki teaching philosophies informed how you've built your institutional philosophy and programs here at OCM?
I have all kinds of ideas with this! I'll start with something I got from the Learning and the Brain conference…they're connected to top neuroscientists doing some amazing research. The psychologists Edward Deci and Richard Ryan have done some interesting work on motivation, and came up with three things that are intrinsic motivators: one is that it must be autonomous and you can do it by yourself, the second is competence (doing it well) and the third is relatedness, meaning doing it in a community that celebrates and supports it. So that kind of became the basis…what better than having every musician who studies here be intrinsically motivated? If we are going to work towards that, we have to create the conditions that make kids autonomous, competent, and have opportunities to share music in a community that loves it. Everything that we offer here hopefully has those elements built into the structure of them. We locked ourselves in a room right when we started all of this…there were about 7 faculty members, and we figured out what our values were…that's where we came up with our core values being passion + dedication = excellence. Actually, we came up with those three and I put them into an equation form, because that order of operations is what we believe creates that excellent result.
Q: I'm curious as to how the many aspects of your life have been affected by Suzuki's teaching. In your professional life and career now ,what about your Suzuki background stays with you as you perform, teach, run the Conservatory, and approach music in general?
"I love performing, don't get me wrong. I love playing with my quartet and my friends, but my passion is teaching. I went to this workshop where we were talking about making a mission statement for our lives, and my mission statement for my life was to help as many people reach their full potential as possible. When I'm performing, that of course serves me and definitely speaks to an audience and everything, but developing a person to their full potential needs communication and a teaching environment, etc. For me, that's the most invigorating thing and what I feel like my purpose is. With that being said, my upbringing was so isolated….I saw my parents sacrifice so much, entire weekends to drive me places to get a lesson. And I remember thinking at that point in my life, I've got to figure out a way….this is so awesome, more people need to have this, my parents are doing so much for me! I can remember in like 6th-7th grade—we had to go to a library because there wasn't internet back then—I went and read all the books on creating a school curriculum, leading a school….and I had this notebook on what my "school" was going to be. What classes I would offer, what daily schedules would be like…I was just so into this! That passion I have for accessibility, for making the arts accessible…really embodying that idea of "every child can learn" really started there. And then now the String Sprouts program has come into fruition even in rural environments like in Scottsbluff where I grew up. When I was growing up, there were probably like 10 people who played string instruments, and maybe only 5 if you're counting people who can play a recognizable tune. Now, Ashley Hillman is a force of nature out there in Western Nebraska, but she has 250 kids in her school program and there are 75 Sprouts…if you think about that, that's almost 350 people in a town of 30,000 playing instruments. That doesn't happen, but it happened, and it's going to keep happening because I won't stop until everyone has the opportunity. Why stop?"