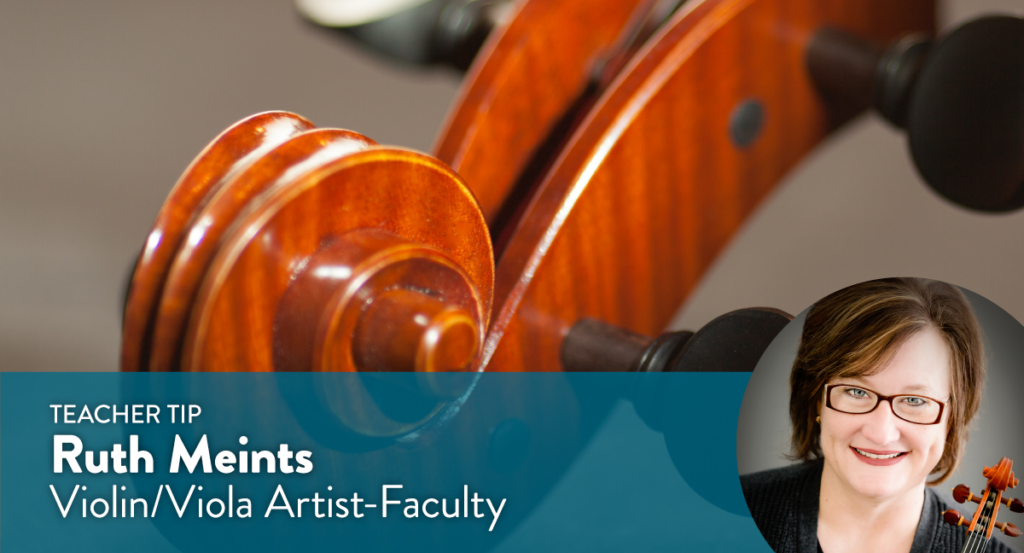 Teacher Tip provided by Ruth Meints, Omaha Conservatory of Music Executive Director and violin/viola Artist-Faculty
---
Several decades ago, I had a student who decided to keep track of the most important idea he learned in each lesson. Throughout the week, he would review this idea, plan his practice around it, and journal successful results. At the end of the semester, he reviewed the collection of "big ideas" from each week's lesson. His list included a variety of ideas about posture, tone production, techniques, and practice methods. He asked himself: "Have I made progress in this area? Has it become a natural part of my playing ability yet? Which focus points did I achieve? Which ones still need work?" I can wholeheartedly report this student made the most progress I've ever witnessed in a semester.
Here's three easy steps to increase the amount you absorb from your lessons:
In every lesson, listen with great anticipation for a key message personally-tailored by your teacher for you. As you go through the lesson, be thinking about which idea you will choose and why. Write it down in your music journal. (If you don't have a place where you are collecting the ideas, memories and "aha" moments from your musical journey, it's time to get one!)
Plan something to do in each practice session that focuses on and reinforces this key message. Write down your practice plan. (Are you noticing a theme of writing things down?)
Record your biggest improvement after each practice. This may or may not be related to your focus point activity. What's important is identifying the thing you improved on the most during that practice session. This can be as short as "Measure 45 — evenness" or more in-depth notes, such as, "I added dynamics to each phrase in the A section." Just for consistency's sake…When I say to "record your biggest improvement," this means write it down!
Bonus tip: If you have an awesome discovery or breakthrough, make sure you – wait for it – write it down! It's so valuable to review your learning history in such a detailed way. When you review what you have learned, the messages you selected as important for you, and what you did about it, you become your own best teacher! You will be surprised how remembering past learning ignites current learning. Start writing your musical history!