First Time at the Conservatory? Welcome! We're Glad You're Here!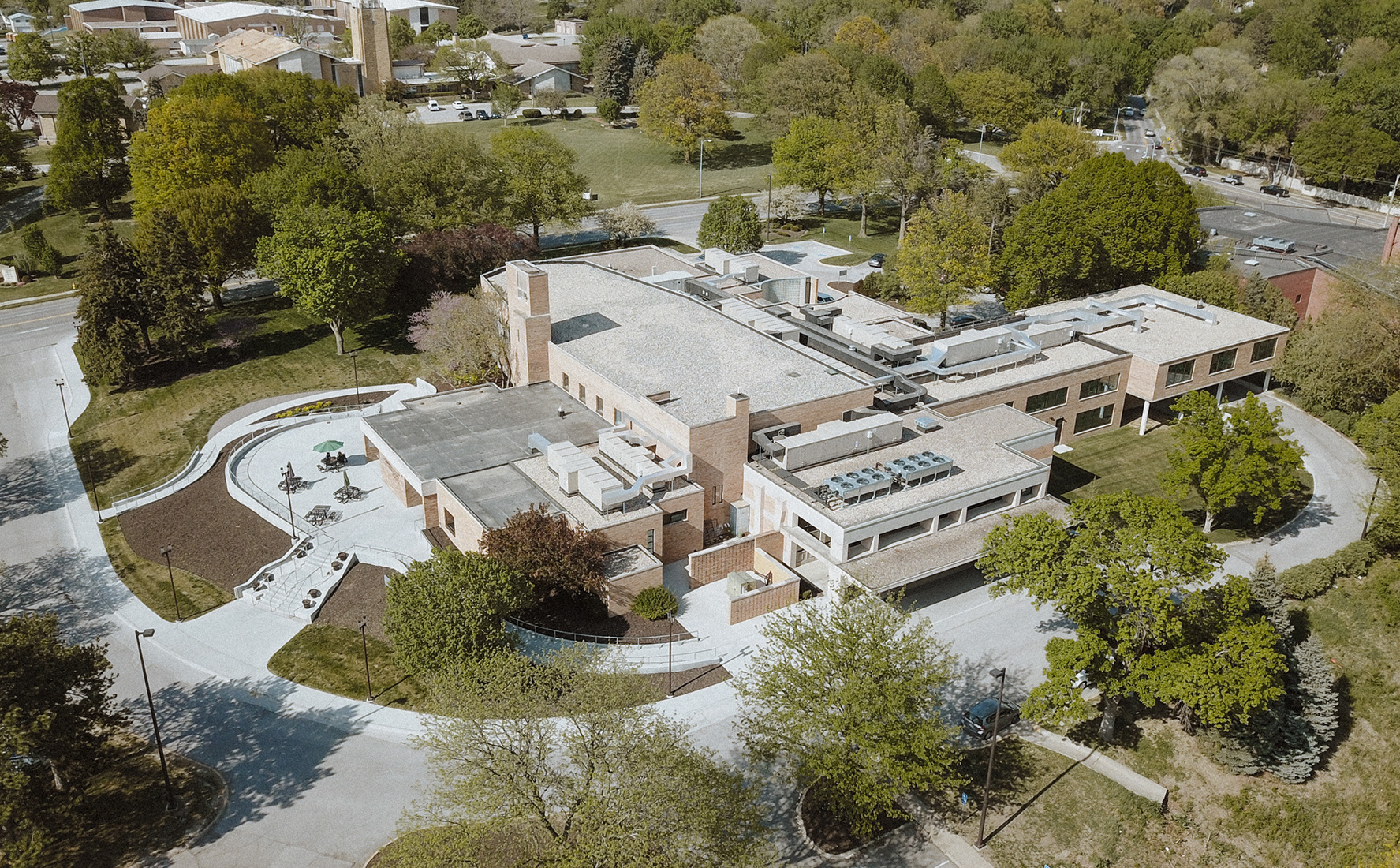 Many lessons, classes, and rehearsals have been underway for a few weeks here at the Conservatory, but we are so excited to welcome even more students (and their families!) to our building for the Group Classes that are kicking off next week! Not signed up for a Group Class but feel like you are missing out on the fun? Never fear: find out more information here.
Though many students and families are returning to our building and are relatively familiar with our space, we realize that we might be seeing some new faces around in the coming weeks! We also know that it can be a bit nerve-wracking and confusing to arrive to a new place for the first time. Where do you park? What are you supposed to do when you arrive? Where can you find restrooms/water fountains/etc.?
We decided to put a quick blog post together to hopefully aid in calming any fears, answer some common questions, and ensure that newcomers feel like they have all of the info they need to arrive to class and be ready to learn + make music together!
Where are you located? Where should I park when I arrive?
Omaha Conservatory of Music is located off of 72nd St. at 7023 Cass Street, Omaha, NE, 68132. You can park anywhere in the spacious south parking lot!
Where should I enter when I arrive?
Good news! There are two (2) public entrances to our building. The main entrance on the south side of the building (under the overhang) will lead you up stairs or a ramp and directly into the Conservatory's lobby. The west entrance (which is also the main entrance to Accelerando Coffee House) is directly up the outdoor stairs/ramp. This entrance connects to the main part of the Conservatory's building through a hallway—just keep walking straight forward as soon as you enter through the west doors or ask a barista for assistance.
Where can I find help or answers to my questions, directions, or any other Conservatory information?
Once you arrive at the Conservatory, feel free to make your way to the Reception desk with any questions. The fantastic front desk staff will be happy to point you in the right direction to your class/lessons, the restroom, or towards Accelerando Coffee House for a yummy beverage.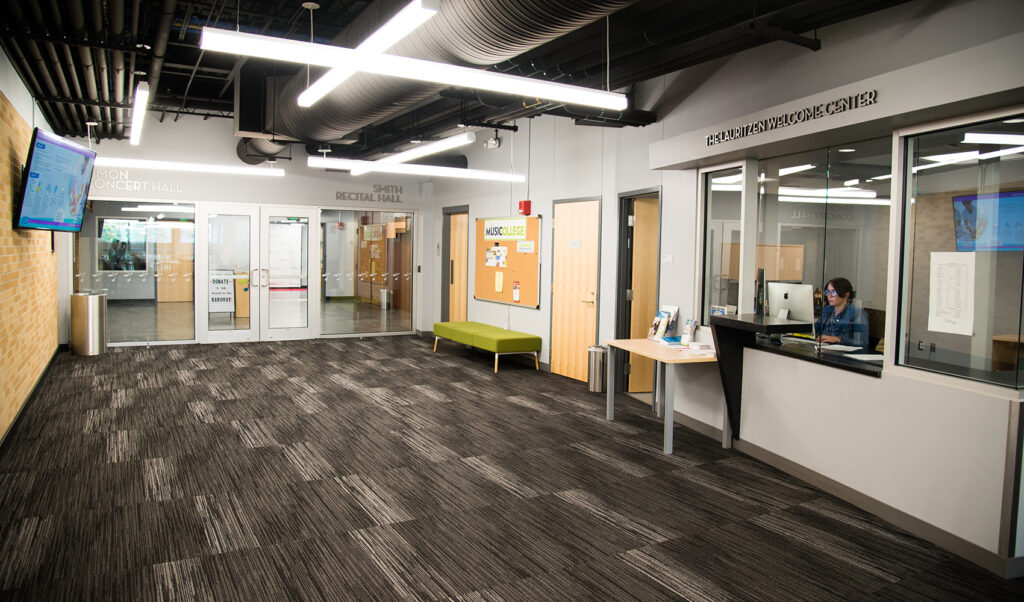 I've never been in the building before, but I do know the room # for my class or lesson. Help!
Feel free to always ask our reception staff for directions anywhere in the building—we understand it can be a bit confusing the first time! However, a good rule of thumb is that any room # beginning with a 2 is on the main (upper) level of the building, and any room # beginning with a 1 is on the lower level (down the stairs) of the building. All teacher studios are labeled with the teacher's name(s) as well, but keep in mind that several Artist-Faculty share studio space so your teacher's name might not be the only one on the door!
Where are the restrooms?
Restrooms are available on both levels of the main building, as well as in the Accelerando Coffee House! See the building map below for a visual representation of the building's layout.
Is there a place for me to wait while my child is in their class or lesson?
Many teachers are happy for parents to attend lessons along with their students—after all, caregiver support is an important part of a young musician's development! However, if you/your child prefers that you wait for them elsewhere during their class or lesson, feel free to find a spot to sit in the Conservatory lobby or grab a delicious drink and hang out in the Accelerando Coffee House!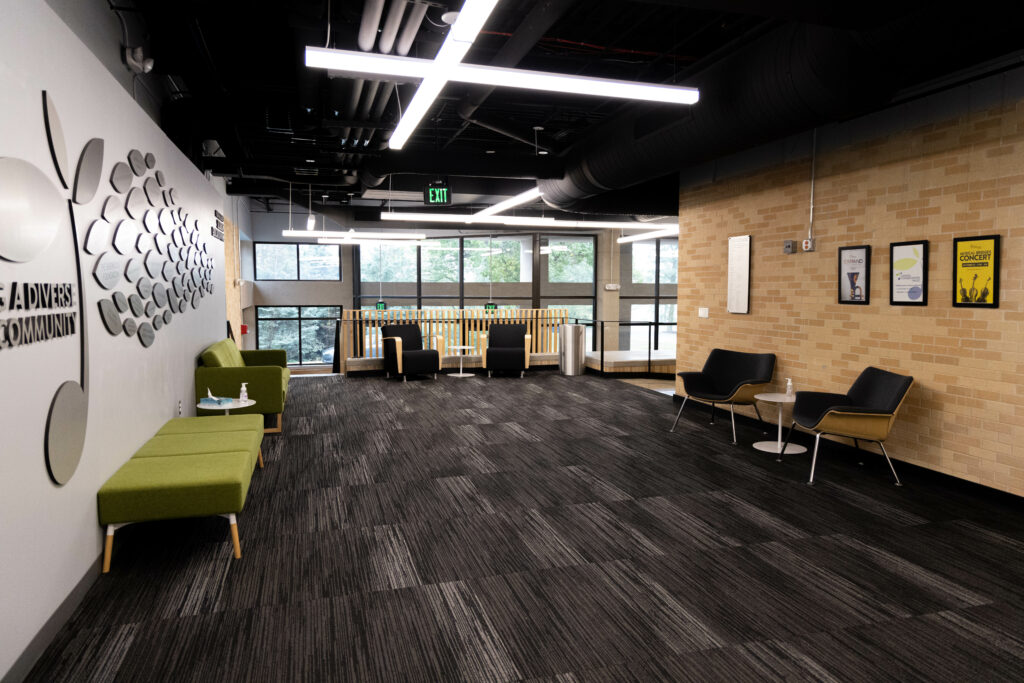 Speaking of the coffee shop…what do they offer? Are there snacks/food available?
We think that Accelerando Coffee House is the best coffee shop in town! Any traditional coffee beverage you can think of (as well as a few unique drinks!), a great selection of tea, non-coffee/tea drinks (such as Italian sodas) and more are available. Additionally, ACH is home to the best grilled cheese in Omaha (seriously: the World Herald said so!) and a rotation of homemade cookies, pastries, and other snacks.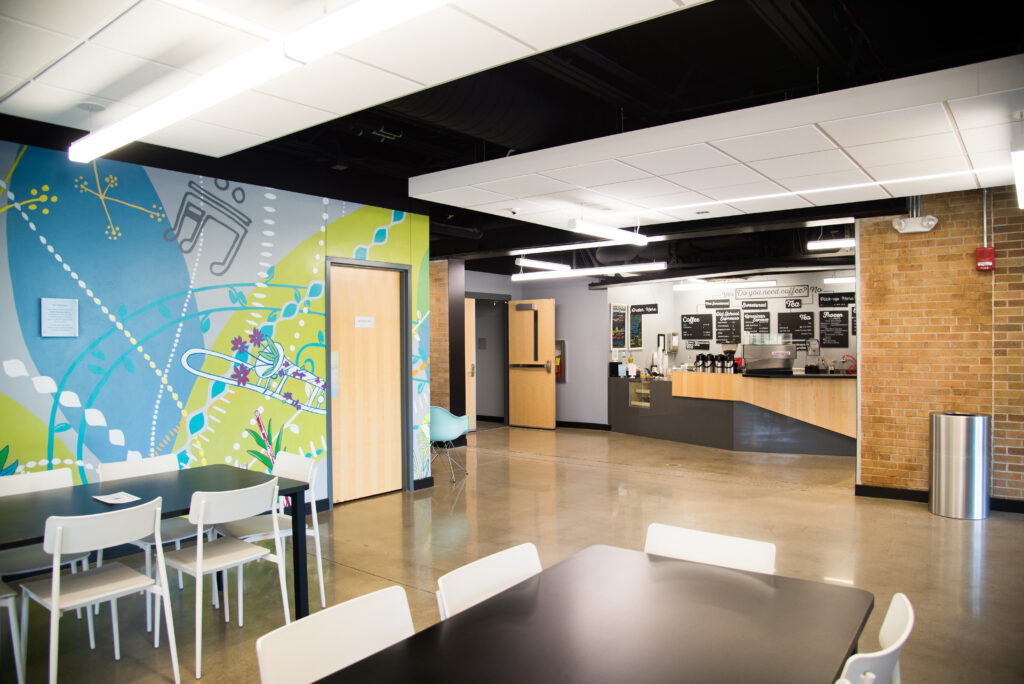 Who should I ask if I have any questions regarding payments, scheduling, or registering for other programs/events/classes?
Stop by the reception desk! If the front desk staff are unable to help you, they will direct you to the proper admissions/administration staff member.
What are your COVID-19 policies and guidelines?
We are continuing to monitor developments surrounding the coronavirus (COVID-19) and are focused on recommendations from local health officials, the CDC and government agencies. There may be changes to these guidelines, as new information is received from government and health agencies. Most importantly, we are committed to the health and safety of our community! Click here to read more information on our website.