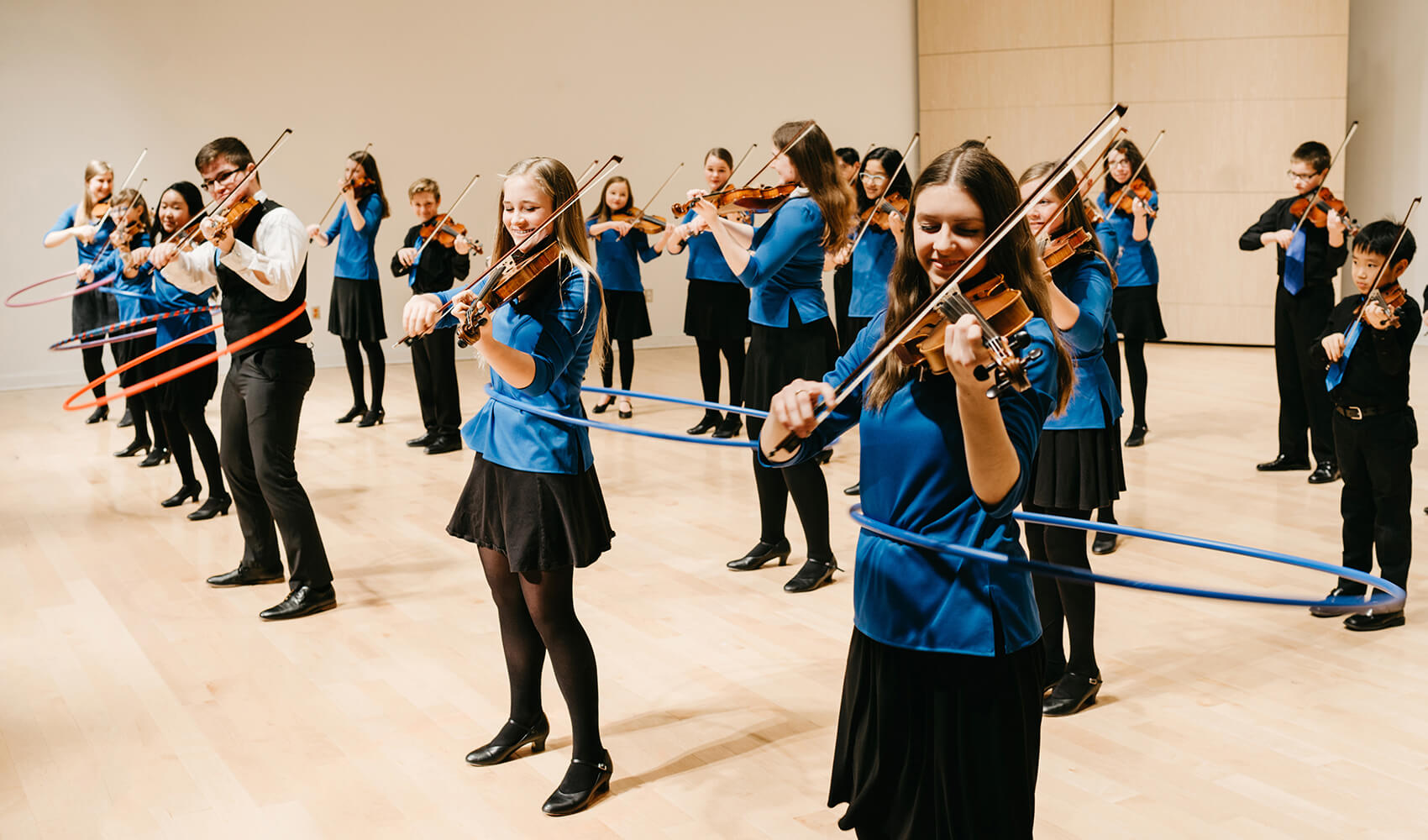 Frontier Strings is comprised of select students who truly encompass Omaha Conservatory of Music's core values of musical community: passion, dedication, and excellence.
Tutti – Placement in Tutti is audition-based. This is the section of Frontier Strings dedicated to developing violinists who have achieved Suzuki Book 4-7 level or equivalent.
Obbligato – Placement in Obbligato is audition-based. This is Omaha Conservatory's preeminent violin ensemble of students who have excelled to Suzuki Book 8 level or beyond. Students can play three octave scales and arpeggios with fluency and are studying the standard violin concerto repertoire.
This premier string ensemble of advanced students performs a variety of repertoire — pop songs, sacred music, fiddle tunes, classical show tunes, and movie music — all from memory. Frontier Strings performs throughout the community during the academic year and tours nationally or internationally each summer. The group has performed throughout the United States and Europe, delighting audiences everywhere with their stunt-fiddling dance moves, and even hula-hooping while performing music at top speed!  Students must also be enrolled in Friday Suzuki Repertoire Class at their assigned level. (Students do not need to be studying privately at the Conservatory to participate in this group.)
Time: Fridays
5:30-6:15 p.m. or
5:30-7:00 p.m.
Class Schedule:
Starts on September 17, 2021, and runs for 32 weeks annually

No class on: 11/19, 11/26, 12/17, 12/24, 3/18, 4/15
Cost: $200/$350
There is a $45 enrollment fee for new students
Audition Information
Frontier Strings will be accepting new students for Fall of 2022.
Audition instructions
Download the Audition Excerpts for the section you are auditioning for (Tutti is Suzuki Book 4-7, Obbligato is Book 8+)
Prepare your excerpts and get excited!
Record a video in landscape orientation and upload as an unlisted YouTube video or Google Drive file, so you can share the link to your video in the Audition form. If you need help with this step email groups@omahacm.org
Complete the Audition Form including submitting your video audition link
New students: upon group acceptance, enroll as a student at Omaha Conservatory of Music and select the class "Frontier Strings" using the Register Here! button below
Audition Excerpt PDFS:
All students must choose one set of excerpts to record for their audition, even returning students.
If you are brand new to the group and are auditioning for Tutti, please choose two of the three excerpts to audition with.
Tutti excerpts:
Boil the Cabbage (all sections except Billy Goat, which is a bonus)
St. Louis Blues (start at the beginning, stop at letter E. For returning members, play the parts you usually play, for new members, play the top part)
The Sound of Music
Obbligato excerpts:
Rag-time Dance (first page: For returning members, play the parts you usually play, for new members, play the top part)
Orange Blossom Special (triple shuffle section, play from Letter B to C, quarter note= 120 BPM)
Fiddle Faddle (must play at tempo half note= 120 BPM)
Audition Form:
All students new and returning MUST complete this form to audition! Click here!
If you have questions or need help with submitting your audition video, please email groups@omahacm.org