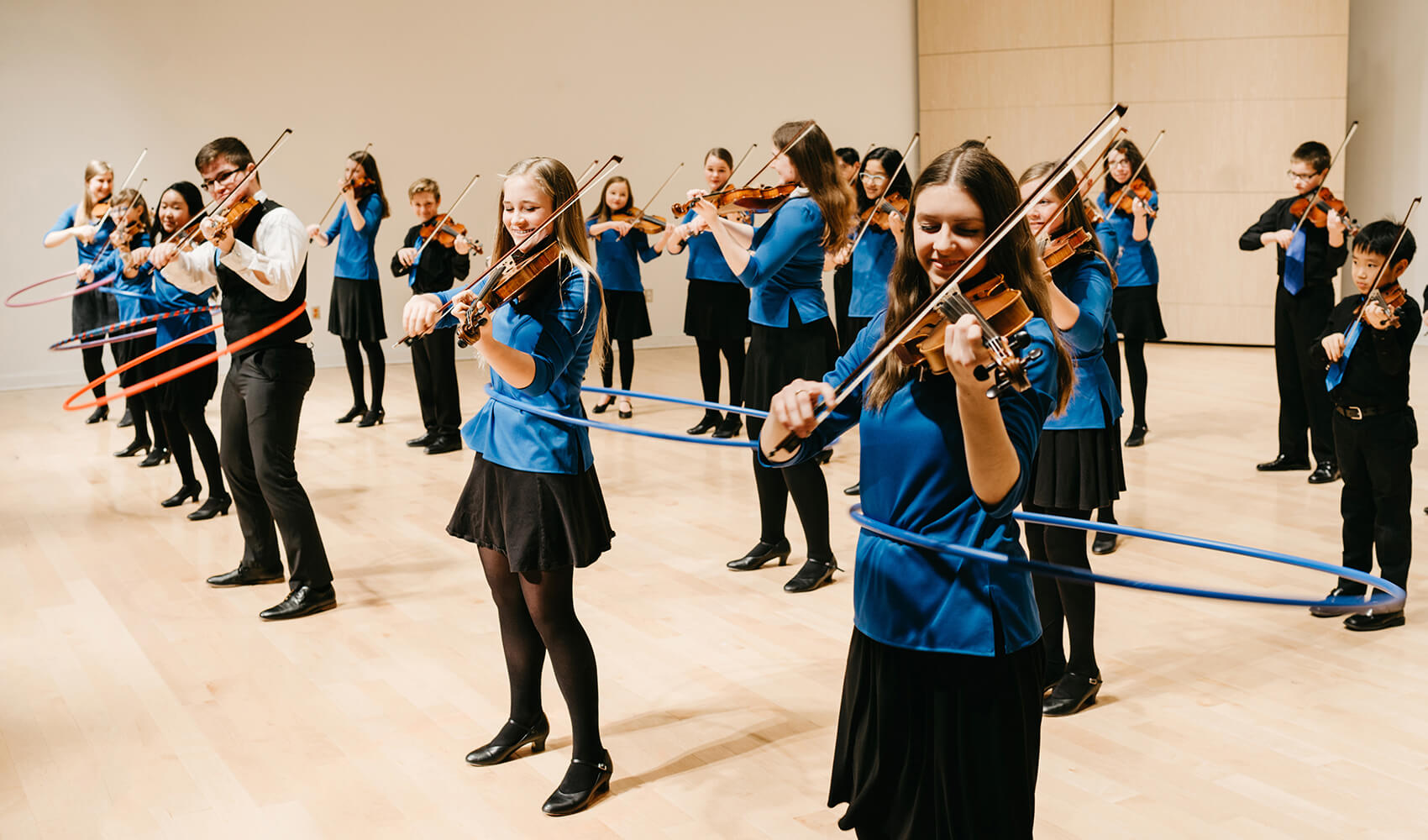 Frontier Strings is comprised of select students who truly encompass Omaha Conservatory of Music's core values of musical community: passion, dedication, and excellence.
This premier string ensemble of advanced students performs a variety of repertoire — pop songs, sacred music, fiddle tunes, classical show tunes, and movie music — all from memory. Frontier Strings performs throughout the community during the academic year and tours nationally or internationally each summer. The group has performed throughout the United States and Europe, delighting audiences everywhere with their stunt-fiddling dance moves, and even hula-hooping while performing music at top speed! (Students do not need to be studying privately at the Conservatory to participate in this group.)
Prerequisite: Violinists who have achieved Suzuki Book 4+ or equivalent. The most advanced students should be able to play three octave scales and arpeggios with fluency and are studying the standard violin concerto repertoire.
Time: Fridays
Class Schedule:
Starts on September 8, 2023, and runs for 32 weeks annually
Cost: $350
Receive a discount of $25 for each additional class taken at the same time (excludes Explorers & Sprouts classes). Other exclusions may apply
This is an auditioned ensemble that requires a placement video. When you apply, we will contact you about submitting a placement video. Generally new students are admitted in the fall, but auditions can be submitted year round.
If you have questions or need help with submitting your audition video, please email classes@omahacm.org
We reserve the right to cancel classes that do not meet the minimum enrollment requirement, in which case tuition and fees will be refunded. Details about our refund and other policies are located HERE.
Audition Information and Submission
Audition Instructions
Download the Audition Excerpts for your appropriate level.
Prepare your excerpts and get excited!
Record a video in landscape orientation and upload as an unlisted YouTube video or Google Drive file, so you can share the link to your video in the Audition form. If you need help with this step email classes@omahacm.org
Complete the Audition Form including submitting your video audition link
Audition Excerpt PDFS:
All students must use the excerpts below to record for their audition.
Excerpts for All:
Boil the Cabbage (all sections except Billy Goat, which is a bonus)
The Sound of Music
Optional for Advanced Players:
Fiddle Faddle (must play at tempo half note= 120 BPM)
Performance Inquiries/Booking Requests
If you are interested in engaging this dynamic ensemble at your event, please contact Sarah Ott at frontieradmin@omahacm.org or call 402.932.4978 ext. 202