All About Explorers: Part 1 — RHYTHM!
It's that time of year again—happy start of fall, Omaha Conservatory community! We're so excited to see students and their families back in the building jumping in to their first weeks of lessons, hanging out at The Gig (our brand-new coffee shop!), and preparing for the various group classes, ensemble rehearsals, and other activities that will be beginning throughout the next few weeks. If you want to learn more about lessons, classes, and so many of the other amazing things we have going on at OCoM, check out our website!
Speaking of group classes, we are so excited to launch a blog series featuring FIVE of our spectacular course offerings—Explorers classes! For the next few weeks, we will be featuring each of these awesome classes in a blog post to give our community some better insight on what they are all about—who they're for, what type of activities you can expect to participate in, and what's cool about each unique class/instrument. If you've never heard of these awesome group learning opportunities, you're in for a treat. Each "explorers" class, no matter the subject or instrument, is perfect for beginners and first-timers of all ages, and introduces you to the basics of instrumental technique and covers various styles and genres of music. There's truly something for everyone with these courses. You can take a peek at all of the explorers offerings as well as other classes available at the Omaha Conservatory here.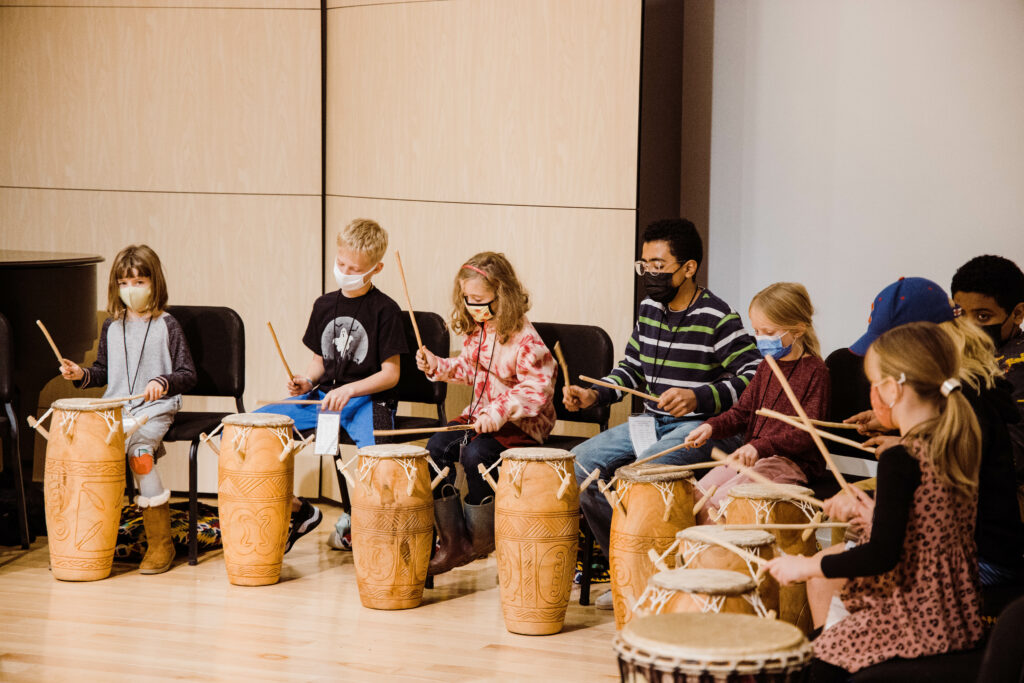 First up—Rhythm Explorers!
What is Rhythm Explorers?
Rhythm Explorers is a unique and hands-on class that will introduce students to the many different styles of world percussion each trimester, led by a knowledgeable guest educator. Students will start by exploring simple rhythms, and will gradually move towards more advanced techniques as the class progresses—all in an enjoyable, supportive, and engaging group environment.
Why should I enroll, and what will I learn?
Students will not only learn proper playing position and techniques for each style of world percussion, but will also dive deep into the background of the musical styles and instruments! Gain a deeper understanding of the musically rich culture and history of continents such as Africa and Asia, and even explore street percussion styles. As with all classes, students will also engage in playing cooperatively in an ensemble, learn call & response techniques and rhythms specific to the genre, and be taught from the diverse perspectives of guest educators.
Who is Rhythm Explorers for?
This class is for any student ages 6 and older looking to explore the unique elements of studying percussion! Rhythm explorers is completely beginner-friendly (no experience necessary!)—just bring your open mind and get ready to make some noise!
Which percussion styles will be featured in the class?
Each trimester will introduce a new style of world percussion, starting in Fall 2022 with West African Rhythms! Winter trimester will feature Japanese drumming with Kokyo Taiko, and the year will culminate in the spring with Street Beats, led by Omaha Street Percussion!
Are instruments provided for this class?
Yes! Get excited to be introduced to many incredibly unique and diverse instruments, such as the African djembe or Japanese Taiko…and even recycled items or things you can find at home!
When and what time?
As previously mentioned, fall trimester begins with African Cultural Connection! We offer three class times:
Tuesday 6-7PM (Ages 6-8) *caregiver attendance required
Tuesday 5-6PM (Ages 9-12)
Tuesday 7-8PM (Ages 18+)
How much?
$140/8-week trimester. However, we offer financial aid opportunities for all students! To apply for aid for Rhythm Explorers, first complete this form.
---
Learn more, explore all of the details, and ENROLL TODAY in Rhythm Explorers by visiting us on our website!