January 21st, 2016
•
OCM News
Ruth Meints among Governor's Arts Award recipients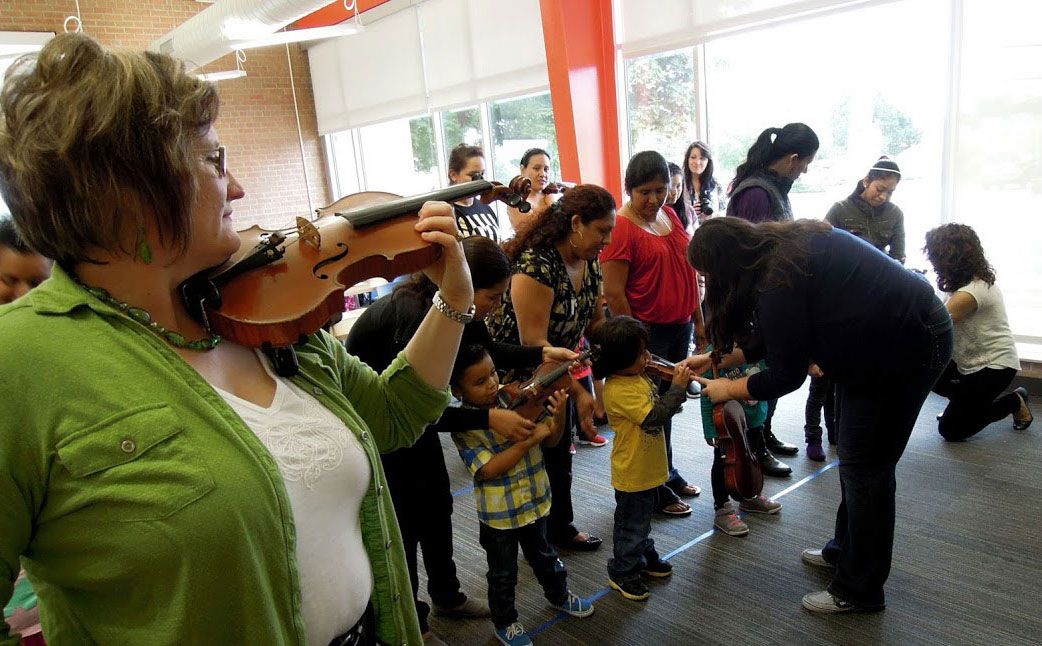 Ruth Meints, executive director of the Omaha Conservatory of Music, leads a String Sprouts class at the Learning Center in North Omaha. Meints was honored by the Nebraska Arts Council with a Governor's Arts Award for Excellence in Arts Education.
Congratulations to the Conservatory's Executive Director, Ruth Meints, who is among this year's Nebraska Arts Council Governor's Arts Awards honorees!
Both Ruth and Omaha Symphony director Ernest Richardson were honored for Excellence in Arts Education, which recognizes an individual who, or organization that, has made a long term outstanding contribution to arts education in Nebraska.
From the NAC press release:
(Meints') career has elevated music education in the state of Nebraska in many unique and groundbreaking ways. Meints has been executive director of the Omaha Conservatory of Music (OCM) since 2005, and in that time she has led OCM to become one of the largest arts education organizations in Nebraska, serving nearly 2,000 students statewide. Meints has created many music education programs, such as OCM's Summer Institute, Winter Festival Orchestra, a weekly music program at St. Augustine Mission School (in Winnebago, Nebraska), and the Inside the Mind of the Artist recital and masterclass series. Perhaps the most innovative program of all is the String Sprouts™ program Meints wrote and launched in 2013. Unlike any other program in the nation in terms of mission, scope and age of students, String Sprouts™ provides free string instruments and free lessons to preschool and early elementary children in underserved neighborhoods, with nearly 900 students enrolled in Omaha, Scottsbluff and Council Bluffs. Meints also founded an elite touring and stunt fiddling group, Frontier Strings, which has delighted audiences from Nebraska City to Fort Robinson to Mount Rushmore to Salzburg, Austria, promoting Nebraska as a hotbed of musical talent.

Meint's (sic) students have performed in the NMEA all-state orchestra, National Youth Symphony, Music Teachers National Association national and regional competitions, and as soloists with the Omaha Symphony, Malibu Chamber Orchestra, Lincoln Symphony Orchestra and other prestigious groups.
"I am so honored to have been selected for this award! The Omaha Conservatory of Music is such a great place to serve the community through amazing music education opportunities! I'm truly grateful!" Meints said about the honor.