Omaha Conservatory of Music Summer Program
A weeklong immersive summer music camp for strings, piano, voice, winds, brass, guitar and percussion students age 9-18. Grow your musicianship and forge musical bonds with your peers in a supportive and dynamic environment! Enjoy a daily camp concert or special presentation. Daily schedule includes a peer-paired masterclass lesson with world-class faculty, electives, ensembles, classes, and practice/rehearsal time in our state-of-the-art facilities.
Camp hours: 8:30 am-5:30 pm daily 
SoundWaves is an auditioned camp. Please see audition video requirements for more information on how to prepare your audition video.
SoundWaves registration is now closed. Check back this fall to register for SoundWaves 2022!
Jack Winerock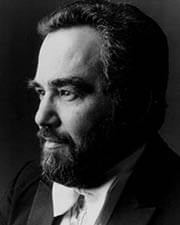 Jack Winerock received undergraduate and master's degrees at the Juilliard School of Music and a doctorate from the University of Michigan. Currently Professor of Piano at the University of Kansas School of Music, he was awarded the prestigious Kemper Teaching Award in 2003. In 2009, he was chosen Teacher of the Year by the National Federation of Music Clubs, and in 2010 he presented the Chopin Master Class at the MTNA (Music Teachers National Association) annual convention.
Winerock received Second Prize in the International Bach Competition, made his orchestral debut with the National Symphony Orchestra at the Kennedy Center in Washington, D.C, and played his New York debut at Alice Tully Hall in Lincoln Center. He has toured Europe, Asia, and South America as well as the United States. In 1986, he gave the first performance of Gershwin's Rhapsody in Blue in the People's Republic of China, and in 1990, he was appointed the first U.S. Visiting Professor at the Chopin Academy in Warsaw.
Winerock has achieved national and international acclaim as a performer, teacher, and lecturer. He currently performs solo recitals and presents numerous master classes in Korea, China, Hong Kong, and Singapore. His students have won prizes in national and international competitions, including the Chopin Competition in Warsaw, the MTNA, the National Federation of Music Clubs, and the Johanna Hodges. They hold important faculty positions both in the United States as well as in conservatories in Europe and Asia. Winerock is also Artistic Director of the International Institute for Young Musicians (IIYM) Piano Competition and Festival held every summer at the University of Kansas.
Stephanie Chevalier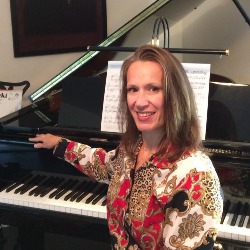 Stephanie Chevalier is a Suzuki Piano and Classical Voice Instructor, mezzo soprano and an Early Music specialist. She attended The American University and St Mary's College of Maryland ( a public honors college) where she studied Piano and Vocal performance and Graduate studies at The Cincinnati Conservatory of Music where she studied Opera. Ms Chevalier has 35 years of teaching experience from preschool through College preparatory and undergraduate level. She is a registered Suzuki Piano Instructor having completed both short term and apprentice programs and a sought after vocal instructor and coach.
Former positions include: Charleston Academy of Music Voice, Piano and Theory Instructor, Levine School of Music Assistant Voice Faculty Chair, Suzuki Piano, Theory and Voice Instructor, as well as, Voice Class Grant recipient for Program Development; Prince Georges Community College Chair for Applied Suzuki Studies including Piano, Violin, Cello, Harp ,Guitar and Flute. At The College of Southern Maryland, she was a Voice Instructor and Summer Musical Theatre Camp Coordinator, as well as choreographer. Ms. Bramble has taught Summer Workshops at The University of Miami (Florida), Beaver College, Shenandoah Conservatory,Westminster Choir College, The College of Southern Maryland and Catholic University. She also served on the Executive Board for the MTACC as Vice President as well as, the Fall Festival/Monster Concert Chair.
Ms. Chevalier has been a frequent soloist in the Washington, DC area and sang with the Washington Opera for 10 Seasons as well as Opera Vivente, The Washington Savoyards, The Little Theatre of Alexandria, The Lyceum and the Church of The Epiphany Concert series, The In Series as well as, The Des Moines Metro Opera to name a few. She made her European Opera debut in 1998 and spent 2 Seasons with The Opera Theatre of Lucca, Italy. She was a regional finalist in the Metropolitan Opera Council Auditions and the winner of the Colonial Dames Scholarship (piano) Competition.
She is the former Piano Division Chair of the Suzuki Association of The Greater Washington Area where she also served on the Board of Directors. Ms Chevalier is also the former Director of The Suzuki Piano Institute of Washington DC, and the Suzuki Piano Workshop of Washington DC.
She is an active member of AGMA, NATS,MTNA,VMTA,NVMTA,NGPT,SAGWA, SAA, CMTA and SCMTA, MSMTA. Ms.Bramble is the former National Piano Guild Chair for Fairfax/Northern Va and Sang with the Charleston Renaissance Ensemble in Charleston, South Carolina.
Ms. Chevalier currently resides in Baltimore, Md (Patterson Park) where she teaches Suzuki Piano and Classical Voice both live at her home studio and online to students globally.
Guest Faculty – Composition
Stephen Hill - Composition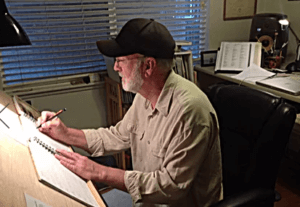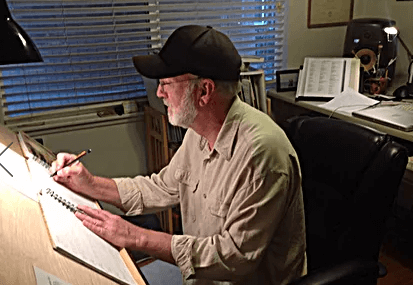 A Southern California native, Stephen Hill was born in the summer of 1958. Hill lives and teach in Whittier, Ca. where he have taught K-12 instrumental music for over 35 years. Hill also directs the Orchestra at California High School, also located in Whittier, Ca.
Hill attended Cerritos College (1976-78) in Norwalk, Ca. where he studied with Composer, Philip Westin (a student of Roy Harris and Ingolf Dahl). After 2 years at Cerritos, he had the wonderful opportunity to transfer to Ouachita Baptist University (1978-80), in Arkadelphia, Ark. Hill went to Ouachita, to specifically study with Composer, Dr. W. Francis McBeth (a student of Clifton Williams, Bernard Rogers, and Howard Hanson).
Being from California, and attending Ouachita in Arkansas, going home on weekends was not an option. Hill spent most of his weekends at school hanging around the Music Building. Dr. McBeth afforded him a great deal of personal time and attention. He would often invite Hill to his home to visit where they discussed everything from music to fishing. The pair remained good friends for over 30 years until his death in 2012. After graduating from Ouachita in 1980 with a Bachelor of Music Degree in Music Theory and Composition, Hill returned to California, for graduate work at California State University, Los Angeles. It was at CSULA, where he studied with Composer, Dr. Byong Kon Kim, and Composer William Hill. Hill also received valued mentoring from Choral Director, Dr. William Belan. Hill received my Master of Arts in Music Composition in 1984. Hill composes for the simple joy of it. He has written for Wind Ensemble, Orchestra, Chorus, Piano and Solo Instrumental works. He self-publishes his music through SARAHTIM Music, named for his children Sarah and Tim​.