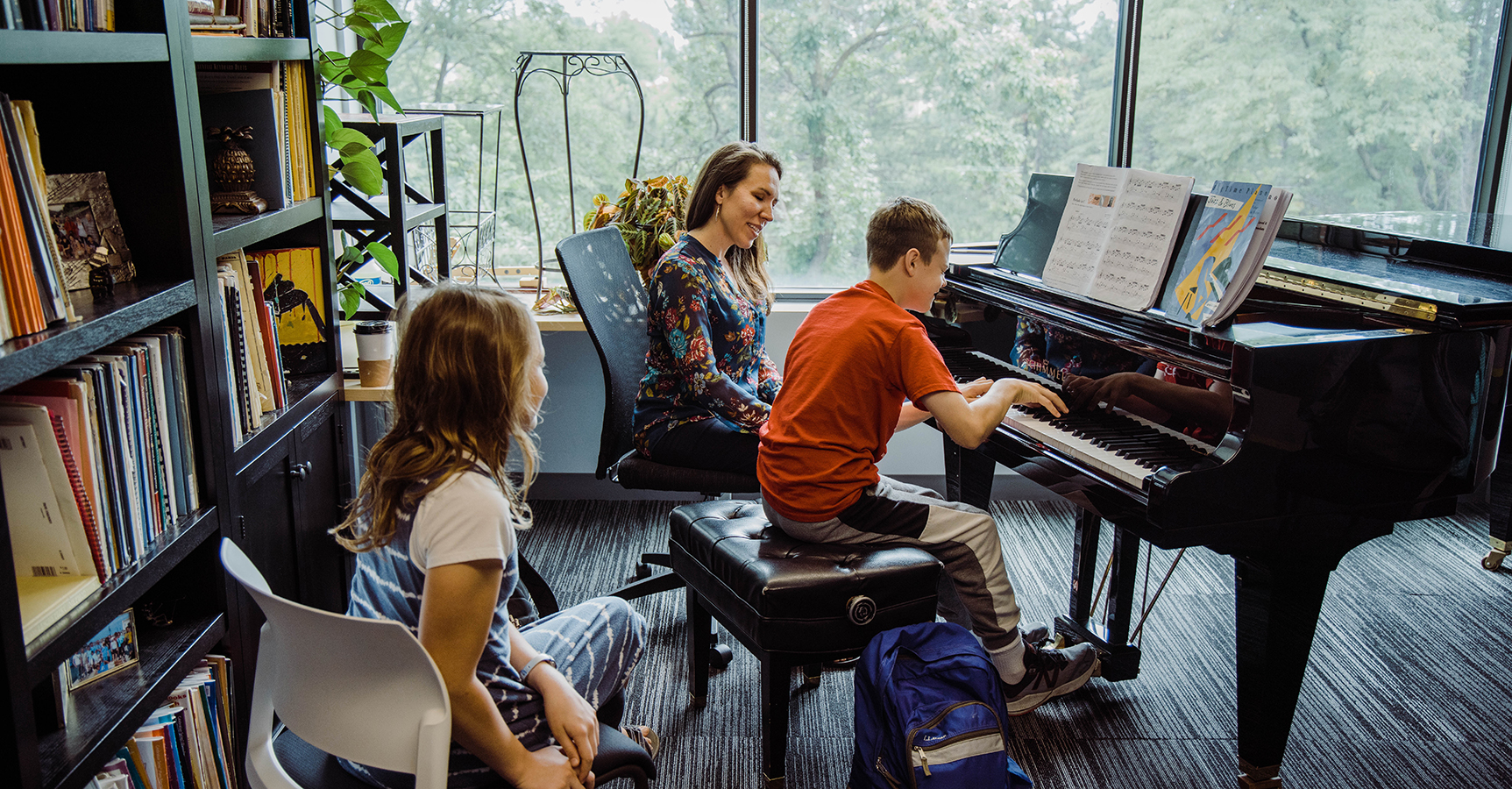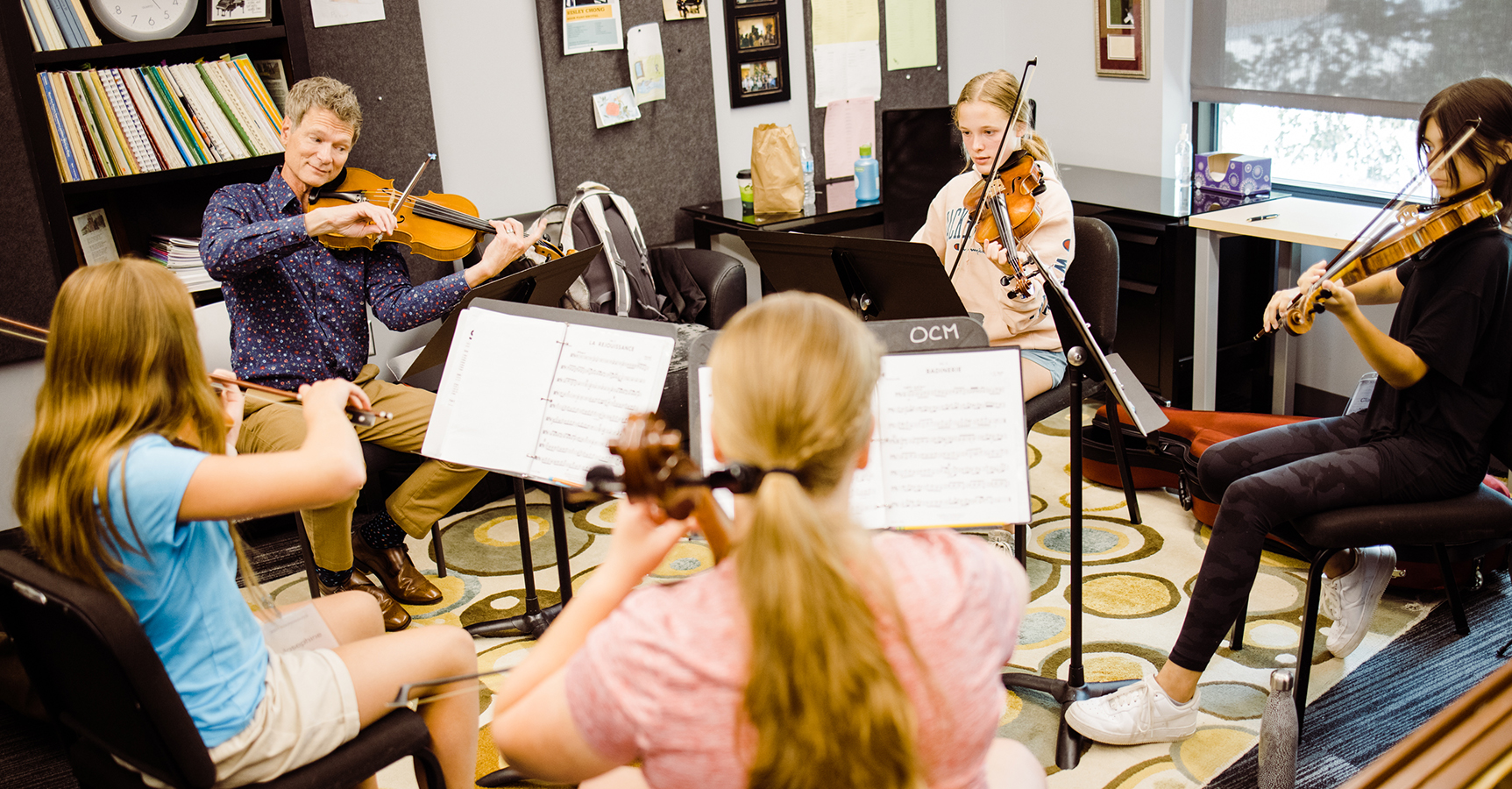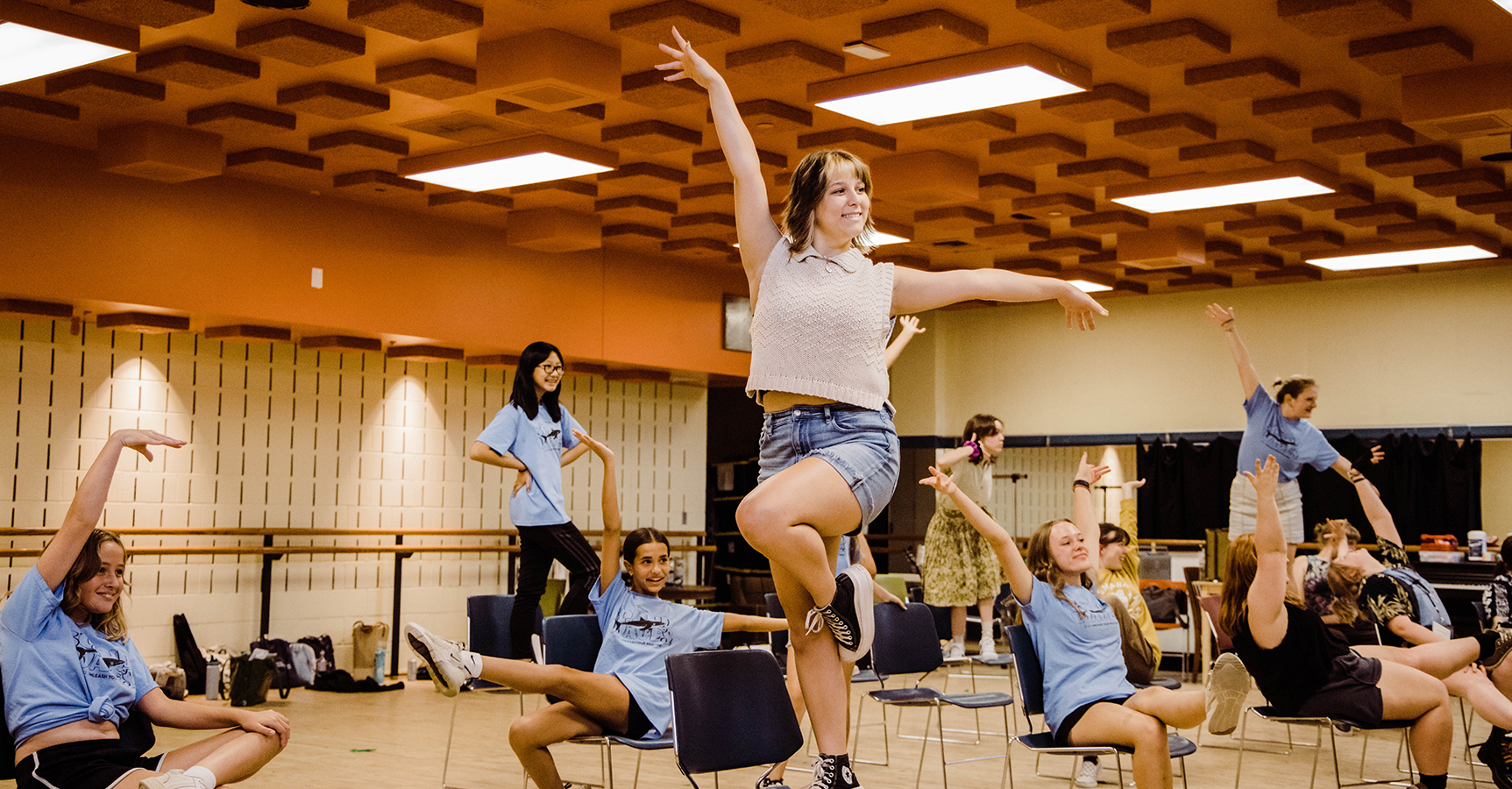 July 20-27, 2024
A weeklong immersive summer music camp for strings, piano, and voice students age 9-18.
Housed at Omaha Conservatory of Music, the country's most promising young musicians have been flocking to SoundWaves for years to immerse themselves in the region's premier pre-college training program. Learn from world-class faculty and immerse yourself in an exciting musical experience at our state-of-the-art campus.
SoundWaves serves as a hub for:
Receiving instruction and inspiration from prominent guest artists from across the country.
Building important musical connections in the national arts community for OCoM, guest artists, and students.
Developing lifelong friendships with peers who are on a similar musical journey.
At SoundWaves, each instrument has a specialized track, and you can see those breakdowns below.
SoundWaves is an auditioned camp:
A video audition is required to register for SoundWaves. Audition video should show a performance of the student from the last 6 months. There will be a space on the registration form to share a link to this video.
You may choose to wait to submit your audition video until after you register. More information about this process will be available early next year.
Camp Info
(This information was accurate for SoundWaves 2023. Details are likely to change for SoundWaves 2024. This information is included here only to provide an idea of what an average SoundWaves looks like at the Omaha Conservatory!)
Strings
Note: These classes were offered for SoundWaves 2023. Class offerings for 2024 may be different.
Orchestra – SoundWaves boasts 3 student orchestras. Each rehearse for 75 minutes each day of camp, and perform in the final concert on July 29, 2023.
Chamber Ensemble – Each string student will be assigned to a chamber ensemble. Ensembles rehearse two hours each day: one hour coached with Artist Faculty, and the other uncoached, allowing students to collaborate on their own.
Masterclass – A daily lesson where the student receives individual instruction by a teacher. This class is shared with one other student who is likely at a similar playing level.

Note: Students may register for extra daily masterclasses for $250. Students taking an extra masterclass will not have a practice hour. Extra masterclasses are subject to availability. You will not be charged for the extra masterclass if we cannot fit it in your student's schedule.

Repertoire – students work on assigned music sent in advance and they perform as an ensemble.
Technique – students refine and master specific aspects of technique through music, games, and exercises.
Voice
Note: These classes were offered for SoundWaves 2023. Class offerings for 2024 may be different.
Showcase – The Voice Program's large ensemble course, all voice students rehearse and learn staging and choreography for the program's final concert held on July 28, 2023.
Scenes – New this year, all voice students will be placed in small groups, given music and possibly some brief dialogue to learn and memorize in advance. During camp, students will work with one member of the voice faculty to stage, rehearse, and perform their scene.
Masterclass – Is a lesson where the student receives individual instruction by a teacher. This class is shared with one other student who is likely at a similar place in their musicianship.

Note: Students may register for extra daily masterclasses for $250. Students taking an extra masterclass will not have a practice hour. Extra masterclasses are subject to availability. You will not be charged for the extra masterclass if we cannot fit it in your student's schedule.

Performance Lab – With a focus on acting, students take turns workshopping one piece with voice faculty while other students observe and absorb.
Ensemble Prep – Students focus strictly on refining the music they will perform for the Showcase concert with voice faculty.
Piano
Note: These classes were offered for SoundWaves 2023. Class offerings for 2024 may be different.
Ensembles

New this year: Advanced and intermediate piano students may submit a request to be part of a string chamber group (playing piano) in lieu of Piano Trios & Duets. Requests and inquiries about repertoire and expectations can be submitted to camps@omahacm.org.
Piano Trios & Duets: Piano students at SoundWaves have the unique chamber piano opportunity to perform with one another at the same time on two pianos for their final concert on July 29, 2023. It is really something to see!

Body Percussion – Students briefly depart from their comfort zone at the piano bench to move their entire body and sharpen their rhythm reading skills!
Performance Class – Students get a chance to play their solo pieces for an audience of their peers while getting one-on-one instruction from one of our piano faculty with whom they do not have a daily masterclass.
Masterclass – Is a lesson where the student receives individual instruction by a teacher. This class is shared with one other student who is at a similar place in their playing.

Note: Students may register for extra daily masterclasses for $250. Students taking an extra masterclass will not have a practice hour. Extra masterclasses are subject to availability. You will not be charged for the extra masterclass if we cannot fit it in your student's schedule.

Technique – students refine and master specific aspects of technique through music, games, and exercises.
(2023) Electives
Electives are a key component to the SoundWaves experience, as they allow students to make friends outside their program and explore other instruments or new genres of their current instrument. During registration, students can choose their top three elective choices. While our team does its best, we can not guarantee all elective requests will be met.
Note: These electives were options for SoundWaves 2023. Electives for SoundWaves 2024 may look different.
Concerts & Performance Opportunities
Exposure to all types of music as well as opportunities for students to perform themselves are two pillars of excellent musicianship, and we emphasize both at SoundWaves. See below for our exciting schedule of concerts and performance opportunities!
SoundWaves Faculty: Violin
SoundWaves Faculty: Viola
Kimberly Fredenburgh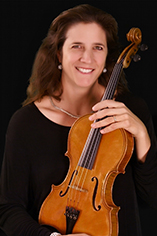 Kimberly Fredenburgh is Professor of Viola and Head of the String Area at the University of New Mexico where she teaches private viola students, classes in orchestral audition preparation and coaches chamber music ensembles. Ms. Fredenburgh is Principal Violist of the Santa Fe Symphony and the Santa Fe ProMusica Chamber Orchestra, and is Acting Principal of the New Mexico Philharmonic. She has performed numerous seasons with the Santa Fe Opera Orchestra and the Santa Fe Chamber Music Festival. She was previously Associate Principal viola of the Phoenix Symphony Orchestra for seven years and also taught on the faculty at Arizona State University
Ms. Fredenburgh was a co-principal violist with the New World Symphony under Michael Tilson Thomas and has appeared in Carnegie Hall with Sir Georg Solti conducting. She has been featured as a soloist with orchestras in Arizona, New Mexico, Brazil, Spain, Italy and South Africa. Ms. Fredenburgh has delivered pedagogical papers at several National ASTA conferences and has also performed at the International Viola Congresses and Competitions
Clark Potter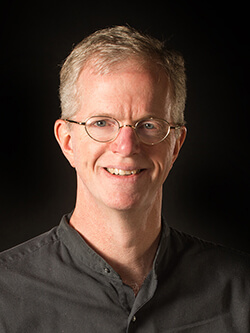 A native of Longview, Washington, Clark Potter is Professor of Viola at the Glenn Korff School of Music at the University of Nebraska – Lincoln, where he is also on the conducting faculty. Mr. Potter is principal viola of the Lincoln Symphony, director of NEBratsche (the UNL viola ensemble), and he is an active performer as a solo recitalist and chamber musician. Mr. Potter has conducted the Lincoln Youth Symphony since 2007 and has conducted that ensemble in Rome, Prague, Budapest, Dresden, Leipzig, Vienna, Dublin and Belfast. He is also a member of two chamber ensembles: the Nebraska Chamber Players and the Trans-Nebraska Players, and he is in demand as an adjudicator and clinician at schools in Nebraska and around the region. He has conducted All-State Middle School Orchestras in Iowa, Oregon and Alabama, and he has appeared more than 20 times as a guest conductor of high school honors orchestras in Kansas, South Dakota, Nevada and Nebraska. In 2007, Mr. Potter was selected to receive the award for Private String Teacher of the Year by the Nebraska chapter of the American String Teachers Association, and in 2008 he was honored as the String Educator of the Year in Nebraska by the same organization.
In 2019, Potter traveled three times to Europe. In March, he conducted the Lincoln Youth Symphony in Rome. In April, he was invited to conduct a youth orchestra in Budapest comprised of musicians from International Christian Schools from many of the major cities of Europe as well as Istanbul and Moscow. Then in October, Mr. Potter was invited to give a lecture regarding "The Shakespeare Project" and perform with his quintet, the Trans-Nebraska Players, at the Musical Intersections in Practice conference held at Churchill College, Cambridge University in Cambridge, England. That performance included works which Potter arranged of orchestral pieces inspired by Shakespeare's plays and readings from Shakespeare by scholar and actor, Mr. Tim Cribb, a fellow at Churchill College.
In 2017, Professor Potter gave the world premiere of the 1946 viola sonata by Oscar-winning film composer Ernest Gold in Lincoln with Professor Mark Clinton, and later in the year presented a lecture/recital of the work at the American Viola Society meetings in Los Angeles.
Mr. Potter worked for several years with Dr. Gregory Bashford and students of UNL's Biological Systems Engineering department to develop an instrument that measures breathing rates and intensities while playing the violin or viola. Results of initial testing were documented in the presentation "How do Upper String Players Breathe When They Play? Can Anything be Done to Help?", given at the March 2015 ASTA National Conference in Salt Lake City and the Nebraska Music Educators Conference in November of 2015.
In addition, Profesor Potter recently completed his second edition of the first five of the six cello suites by Bach for viola, and in 2019 he was awarded a Research Council grant-in-aid to purchase a 5-string viola for the viola studio at UNL, which will allow him to complete the edition with a version of the sixth and final suite.
In the spring of 2013, Mr. Potter received two significant awards. First, he was awarded "Outstanding Faculty in Outreach, Engagement and Service" for the College of Fine and Performing Arts at UNL. Second, he was awarded the "Golden Baton Award" for his dedication and work as a musician and citizen in Lincoln's Symphony Orchestra.
Prior to his appointment at Nebraska, Mr. Potter taught nine years at Eastern Oregon University, where he was associate professor of strings and conductor of the Grande Ronde Symphony. He received his graduate degrees from Indiana University and California Institute of the Arts and his bachelor's degree from Western Washington University. He has studied with Peter Marsh, James Dunham, Charmian Gadd, Richard Goldner, and Mimi Zweig.
During the summers, Mr. Potter is on the faculty of the Omaha Conservatory of Music Institute. He has been a performer in the Oregon Coast Music Festival Orchestra, a guest artist at Rocky Ridge Music Center, artist/teacher of viola and chamber music at the Young Musicians and Artists summer program in Salem, Oregon, the Puget Sound Chamber Music Workshop, Lutheran Summer Music program and the Csehy Summer School of Music. He is active in the American String Teachers Association: he served six years on the board of the Nebraska chapter, he was president of the Oregon chapter, and he has written for the organization's national magazine. Mr. Potter recently served a three-year term on the Nebraska Music Educators Assoc. executive board. He has also dabbled in composition, having composed three pieces for young orchestras, music for two contemporary ballets, one full-length "cowboy" musical, several pieces for choir and pieces for smaller instrumental combinations, including a viola sextet.
In 2010, Mr. Potter performed the viola solo in Vaughan Williams' Flos Campi with the Lincoln Symphony, and with the same orchestra he was featured with violinist Anton Miller, performing Mozart's Sinfonia Concertante in 2005. In 2010 he performed the premiere of Martin Gaskell's Fantasia for Viola and Orchestra in Austin, TX. In addition, he is half way to his goal of performing as a soloist or chamber musician in each of the 50 states.
Clark would rather be at home than anywhere else in the world, however, enjoying time with his family (wife, Jan; daughter Shannon and her husband Phillip; and son Samuel and his wife Alexandria). He is a big baseball fan, and his favorite hobby is to run and race on roads and trails year around.
SoundWaves Faculty: Cello
Frances Borowsky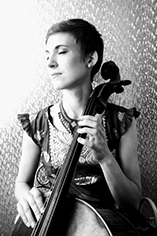 Cellist Frances Borowsky has performed recitals in Rome, Paris, Warsaw, Frankfurt, Cologne, Yekaterinburg, Beijing, Tianjin, Hanoi, Jakarta, and Havana, in major venues such as the Kennedy Center, Kimmel Center, and Penderecki European Music Centre. She has been featured as soloist with the Tianjin Symphony Orchestra, Oregon Pro Arte Chamber Orchestra, Rheinland-Pfalz Jugend Orchester, Gettysburg Chamber Orchestra, Polish Youth Symphony, Alexandria Symphony Orchestra, and Lebanon Valley College Orchestra.
​​A native of Baltimore, she grew up in an exceptionally musical family and thus honed her love for solo and chamber music performance. Together with her siblings, Frances performed her New York Debut at Carnegie Weill Hall at the age of twelve as a recipient of the Erick Friedman Prize for Outstanding Young Musicians. In December 2018, Frances performed together with her sister, Elizabeth, at Carnegie Hall Stern Auditorium as featured, invited soloists in a celebration of Antonin Dvorak. Recent performance highlights include concert tours in France, Israel, Lithuania, and Cuba, performing Vivaldi's Double Cello concerto as soloist with Cecylia Barczyk and the Alexandria Symphony Orchestra, Beethoven's Triple Concerto with her siblings and the Oregon Pro Arte Chamber Orchestra, Schumann's Cello Concerto and another Vivaldi Double Concerto (with violin) with the Susquehanna Symphony Orchestra, and Elgar's Cello Concerto with the University of Maryland Repertoire Orchestra.
​
​Frances performs frequently in the Amici Music Series with founder and pianist Dan Weiser, and has performed for the Riversdale Chamber Music Society with faculty from the University of Maryland, Chopin Club in Providence, Tempo New Music Series at UMD, and the UMD Chamber Music Showcase at the Millennium Stage at Kennedy Center. Frances has also collaborated with wind ensemble Quinteto Latino, pianists Brian Ganz and Georges Beriachvili, cellist Amit Peled, violinists Shmuel Ashkenasi and Borisas Traubas, and the Dagilelis Boys Choir of Lithuania.Her three solo performances at the Keshet Eilon Mastercourse in August 2017 were live-streamed and broadcast around the world. At the 2019 Green Mountain Chamber Music Festival, she gave the U.S. premiere of the "Mirrors" cello octet by Richard Birchall together with Festival faculty and selected participants.
​Awards include the Grace Clagett Ranney Prize for excellence in chamber music at The Peabody Institute, first prizes in the Mary Graham Lasley Concerto Competition, Levine Chamber Music Competition (as part of Trio INUENDI), Baltimore Music Club Competition, and Peggy Friedman – Yale Gordon Competition, and second prizes in the University of Maryland Concerto Competition, and the Sylvia and Irving H. Cohen Competition.Throughout her career, Frances has been involved with performing and composing new music. She frequently performs together with her brother (violinist Emmanuel Borowsky) and sister (pianist Elizabeth Borowsky). As Artists-in-Residence at the Dilsberg Castle (Germany) in 2008, she and her siblings co-composed their first trio, "Postcards from Dilsberg," which is available on DVD and published by ICRecords. Since then, they received several commissions to compose more trios, and frequently include these in performance.
Simultaneous to her performance career, Frances enjoys teaching cellists of all ages and levels. ​She teaches at Lebanon Valley College and Elizabethtown College. Since 2020, Frances has served as Executive Director of the Intermuse International Music Institute and Festival USA, where she teaches cello and chamber music to students from around the world, and collaborates with IIMIF faculty in chamber music performances. Frances is also Co-Director of the Vivaldi String Academy in Towson, MD, and Co-Founder and the Cello Finder of Grace Albert Strings.
Frances has received cello performance degrees under the tutelage of Cecylia Barczyk at Towson University (BM); Amit Peled at The Peabody Conservatory (MM); Alexander Huelshoff and Laurenciu Sbarcea at Folkwang University in Germany (MM); and Eric Kutz at University of Maryland College Park (DMA). Additionally, she has been mentored by prestigious cellists Janos Starker, Johannes Moser, and Michael Flaksman.​​
Karen Becker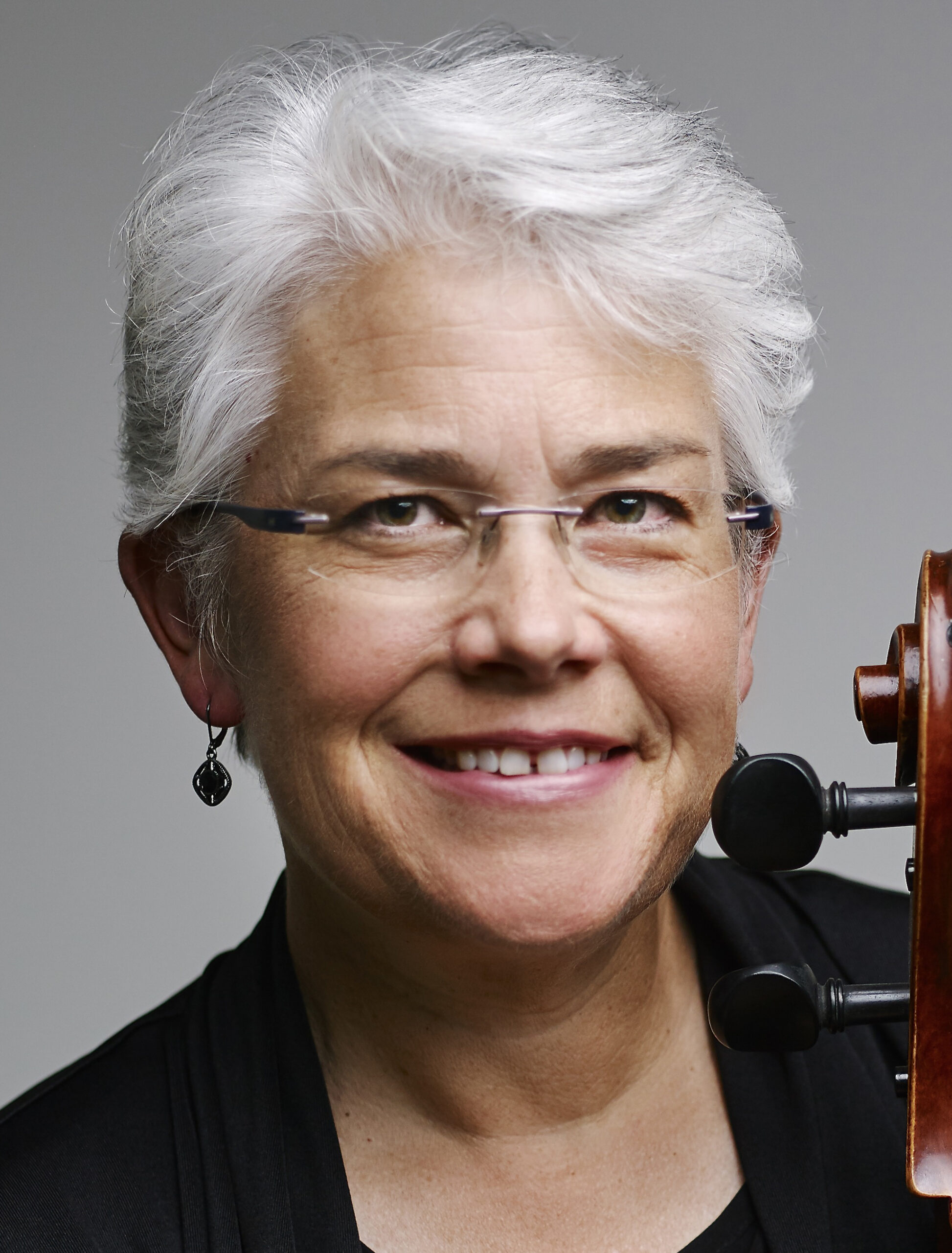 Karen Becker is Professor of Cello at the University of Nebraska-Lincoln, principal cellist of Lincoln's Symphony Orchestra and director of the University of Nebraska and Lincoln Public Schools String Project. She is an active soloist and avid chamber player, performing regularly throughout the United States as well as Europe, Mexico, and South Korea. In addition to serving as faculty artist with the Red Lodge Music Festival in Montana and the Omaha Conservatory of Music Institute, she has served as artist faculty with the Ameropa Chamber Music Festival in Praque (Czech Republic) and Lutheran Summer Music. In Prague she performed in a series of concerts in various venues throughout the city, such as the prestigious Suk Hall at the Rudolfinum, Martinu Hall at the Academy of Music, and the Hall of Mirrors at the Klementinum. In May 2019 she traveled to Seoul, South Korea with Glenn Korff School of Music (and dance) students and colleague Hye-Won Hwang. While in Seoul, Becker gave masterclasses for high school and college-age cellists and performed in several venues with Hwang and the three UNL students, combining music and dance in new and exciting ways. During the summer 2023, Dr. Becker will serve as artist faculty for the Red Lodge Music Festival (Montana), Omaha Conservatory's SounWaves music camp, and as Guest Artist faculty for the ICI (International Cello Institute), held on the St. Olaf campus in Northfield, MN.
Becker has recorded for several PBS documentaries and with several bands, including Bright Eyes. She tours regularly as a soloist and chamber player and is a member of the Concordia String Trio (CST) with violinist Marcia Henry-Liebenow and violist Leslie Perna. Centaur Records released CST's CD Viennese String Trios in 2017 and their second CD, American Vistas, was released in 2018. A third CD, From the Heart of Ra, string trio and viola music by Boston composer Andrew List, was released in November 2022. She is a former member of Trio Nuovo and the Omega String Quartet, and served as principal cellist of both the Melkus Ensemble and the International String Orchestra. Becker has appeared as soloist and principal cellist with the Texas Cello Choir at national conventions as well as on "Front Row Center," a Texas Public Television program.
In 2017 Dr. Becker gave the California premiere of Laurence Sherr's Sonata for Cello and Piano: Mir Zaynen Do! as part of Daniel Pearl World Music Days; the same sonata for which she gave the world premiere at the University of Nebraska in 2015. She is a regularly featured artist on American Public Media's Performance Today. In November 2021, Becker performed the Nebraska premiere of the beautiful neo-romantic cello concerto by Swedish composer Kurt Atterberg.
An active member of the American String Teachers Association (ASTA), Becker has served as a past president of both the Nebraska and Missouri chapters and has presented at numerous ASTA National Conferences, including those held in Atlanta, Georgia; Kansas City, Missouri; Louisville, Kentucky; Reno, Nevada; Providence, Rhode Island; Salt Lake City, Utah; Albuqurque, New Mexico; and Orlando, Florida. She has been on the planning committee for ASTA National Conventions and served on the organization's committees at the national level. She is a recipient of the ASTA Citation for Leadership & Merit.
As a string educator, Becker enjoys serving as a cello clinician and master teacher for cellists of all ages. She has worked with young musicians as a guest conductor and clinician and in Lincoln as former director of the Junior Youth Orchestra, part of the Lincoln Public Schools youth orchestra program. She has conducted several orchestras in the University of Texas String Project and has appeared as guest conductor/clinician for honors orchestras throughout the United States. In October 2022 Becker was honored to receive an invitation to give the Pre-Collegiate Cello Master Class at the 2023 ASTA National Conference in Orlando. She always looks forward to having the opportunity to work with new students and help inspire them to become better musicians.
Becker received her Doctor of Musical Arts and Master of Music degrees from the University of Texas at Austin and the Bachelor of Music degree from Ohio University. Her teachers have included her father David Becker, Leighton Conkling, Roger Drinkall, and internationally renowned string/cello pedagogue Phyllis Young. Before coming to Nebraska she was cello professor at Truman State University and served as String Project teacher at the University of Texas. An avid cyclist, she enjoys endurance cycling and participating in century rides.
Carey Beth Hockett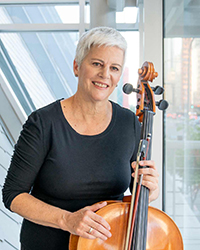 Carey Beth Hockett graduated from the Eastman School of Music, receiving a Bachelor of Music degree with high distinction. From 1988 to 2006 she lived in London, England where she taught for the London Suzuki Group and in the Junior Department of the Royal Academy of Music. Hockett was a member of the International Suzuki Association's Cello Committee and served as repertoire consultant to the Associated Board of Royal Schools of Music. She is recognized as a teacher trainer by the Suzuki Association of the Americas and the European Suzuki Association, and has given numerous workshops across the Americas and Europe. She is currently serving on the Board of Directors of the Suzuki Association of the Americas.
Matt Gold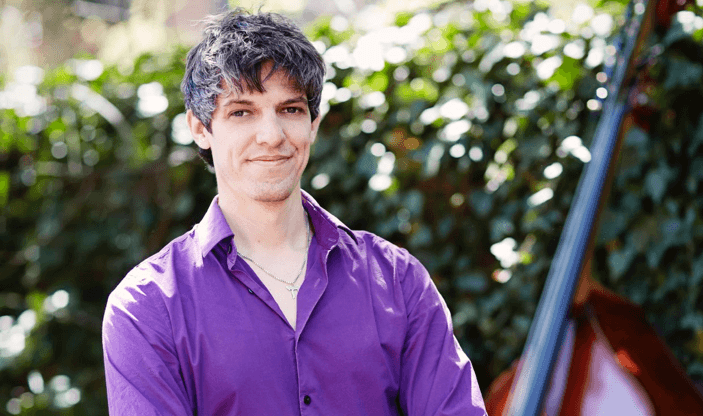 Matt Gold fell in love with the double bass when he began playing the instrument at the age of nine. He went on to study with John Chiego at the University of Memphis on a full scholarship, and later with the distinguished bass pedagogue Lawrence Hurst at Indiana University where he earned a Masters Degree in Music Performance. While at IU, Matt also had the privilege of working with Bruce Bransby, former Principal Bass of the Los Angeles Philharmonic, and Stanley Richie, the world-renowned Baroque violinist. Matt has been a tenured member of the Memphis Symphony Orchestra, and has played with the Louisiana Philharmonic and Virginia Symphony Orchestras. Nowadays, he can frequently be seen on stage at Richmond's Carpenter Theatre with the Richmond Symphony.
Matt has always had a strong interest in a variety of eclectic styles. In high school, he began rock and jazz lessons on guitar and studied jazz bass at the University of Memphis with Tim Goodwin, formerly of the Kennedy Center "Jazz Ambassadors" program. Matt has also taken composition lessons from Prix deRome winner Kamran Ince. He currently plays double bass in Goldrush, a Richmond-based rock band.
A dedicated teacher, Matt is a classical bass instructor at the College of William & Mary and the Omaha Conservatory of Music Summer Institute, alongside a very successful studio of private bass students. When he is not making music, Matt loves to go on runs through Richmond's beautiful Museum District with his wife, Treesa Gold, violinist, and their two dogs, Ringo and Rubeus.
SoundWaves Faculty: Conductors
Ernest Richardson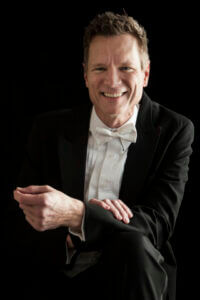 The versatile Ernest Richardson is in high demand as conductor, composer, arranger, organizational leader and inspirational speaker.
His versatility finds him within one season conducting Stravinsky's Firebird Suite or Broadway artists in the works of Leonard Bernstein, a live-to-movie production of Harry Potter, facilitating strategic decision-making for leading arts organizations, or training young musicians for the passionate, persistent pursuit of perfection.
He has been at the forefront of symphonic video/live music productions, conducting live-to-movie scores of the Harry Potter series with CineConcerts, Indiana Jones and the Raiders of the Lost Ark, Jurassic Park, Back to the Future, Pirates of the Caribbean, Singing in the Rain, Casablanca, Ratatouille, Star Trek (2009), the Charlie Chaplin silent film The Gold Rush and most recently Star Wars.
May 2020 marks his live-in-concert album debut with indie rock band Guster on OMAGAH! for their live performance with the Omaha Symphony in collaboration with the MAHA Music Festival in February 2019. The recording is available on guster.bandcamp.com or gustermerch.com.
Richardson is presently the principal pops conductor and resident conductor of the Omaha Symphony at his appointment in 2015. Since 1993, he has laid the groundwork for and led in the development of the Omaha Symphony's vaunted education and community engagement programs. In addition to his artistic leadership in the creation of the annual sold-out Christmas Celebration production and internationally performed "Only in Omaha" productions, he leads the successful Symphony Pops, Symphony Rocks and Movie Music Series. The highly successful Family Series was created under his artistic leadership and he is one of the visionary forces behind the new and innovative Symphony Joslyn Series. As chief architect of the Omaha Symphony's education and community engagement programs, Richardson has been at the forefront of crafting the vision for the programs and their impact on the community. The pivotal point in his leadership can be traced to the first education report written in the beginning of his tenure with the Omaha Symphony. This report paved the way for the structure, function and programming of the education department leading to innovations in all programming including the creation of Choral Collaborative, Celebrate Creativity, Music Alive!, the Family Series and Mission: Imagination.
Learn more about Ernest at: www.troutmaestro.com
Patty Ritchie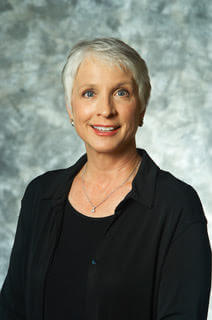 Patricia Ritchie combines her love for performing and teaching in Omaha, where she has taught Orchestra in the Omaha and Millard Public Schools for nearly 40 years. She earned her Bachelor of Music Degree in Music Education from Ball State University in Muncie, IN and her Master of Music Degree in Cello Performance from the University of Denver-Lamont School of Music. Patricia has served as a guest conductor and clinician, adjudicator, coach, private lessons teacher, OAYO board member, cellist with the Omaha Symphony, and has performed for movie soundtracks. She has served as President of Nebraska Chapter of American String Teachers Association, Chair of Orchestra Affairs for Nebraska Music Educators, and as a conductor for Nebraska Ambassadors of Music European Tours.
SoundWaves Faculty: Piano
Jack Winerock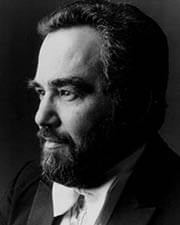 Jack Winerock received undergraduate and master's degrees at the Juilliard School of Music and a doctorate from the University of Michigan. Currently Professor of Piano at the University of Kansas School of Music, he was awarded the prestigious Kemper Teaching Award in 2003. In 2009, he was chosen Teacher of the Year by the National Federation of Music Clubs, and in 2010 he presented the Chopin Master Class at the MTNA (Music Teachers National Association) annual convention.
Winerock received Second Prize in the International Bach Competition, made his orchestral debut with the National Symphony Orchestra at the Kennedy Center in Washington, D.C, and played his New York debut at Alice Tully Hall in Lincoln Center. He has toured Europe, Asia, and South America as well as the United States. In 1986, he gave the first performance of Gershwin's Rhapsody in Blue in the People's Republic of China, and in l990, he was appointed the first U.S. Visiting Professor at the Chopin Academy in Warsaw.
Winerock has achieved national and international acclaim as a performer, teacher, and lecturer. He currently performs solo recitals and presents numerous master classes in Korea, China, Hong Kong, and Singapore. His students have won prizes in national and international competitions, including the Chopin Competition in Warsaw, the MTNA, the National Federation of Music Clubs, and the Johanna Hodges. They hold important faculty positions both in the United States as well as in conservatories in Europe and Asia.
Winerock is also Artistic Director of the International Institute for Young Musicians (IIYM) Piano Competition and Festival held every summer at the University of Kansas.
Elizabeth Borowsky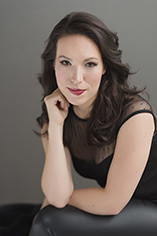 With performances spanning distinguished venues and festivals in over thirty countries, Elizabeth Borowsky is equally at home performing as a soloist on the stages of Carnegie Hall and The Kennedy Center as she is getting up-close-and-personal with audiences in community venues, from Cuba to Lithuania. She is lauded as a sensitive and dynamic collaborative pianist, having performed with renowned soloists Amit Peled, Cecylia Barczyk, James Stern, Erick Friedman, Chin Kim, and Teresa Kubiak among others. Learn more about her career as a performer.
As founder and director of Piano Prodigies LLC, a unique approach to private piano instruction that focuses on the artistic and personal development of each student, Elizabeth has earned a reputation as a dedicated and effective teacher. She has presented workshops on yoga for musicians, stage presence, artistry, and improvisation at high schools, colleges, conferences, and summer festivals. She serves as Executive Director of the Intermuse International Music Institute and Festival USA, an annual solo and chamber music program. Learn more about her life as a teacher.
As a composer, Elizabeth has written and published music for piano, trio, and orchestra. She frequently writes custom compositions for her students, blending her passion for performance, collaboration, and storytelling, with nurturing the next generation of music lovers. Learn more about her work as a composer.
SoundWaves Faculty: Voice
SoundWaves Faculty: Music Production
Marcey Yates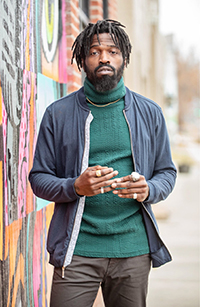 Marcey Yates is a recording artist, music producer, sound engineer and founder of Culxr House, a creative art/community space where artists and entrepreneurs can grow and enrich their own artistic talents and create opportunities.
In addition to his solo work, Marcey is one half of the duo Dilla Kids, winner of the 2018 Omaha Entertainment and Arts Award for best hip hop/rap. Backed by a sound best described as "expressive vinyl hip hop," he has played with Rakim, P.O.S, Black Milk, Freddie Gibbs, B-Real, Weezer and more at the Maha Festival, Lincoln Calling festival and SXSW. Marcey regularly lends his talents as an established producer to emcees searching for the ideal beat.