Teacher Tip: The Importance of Improvisation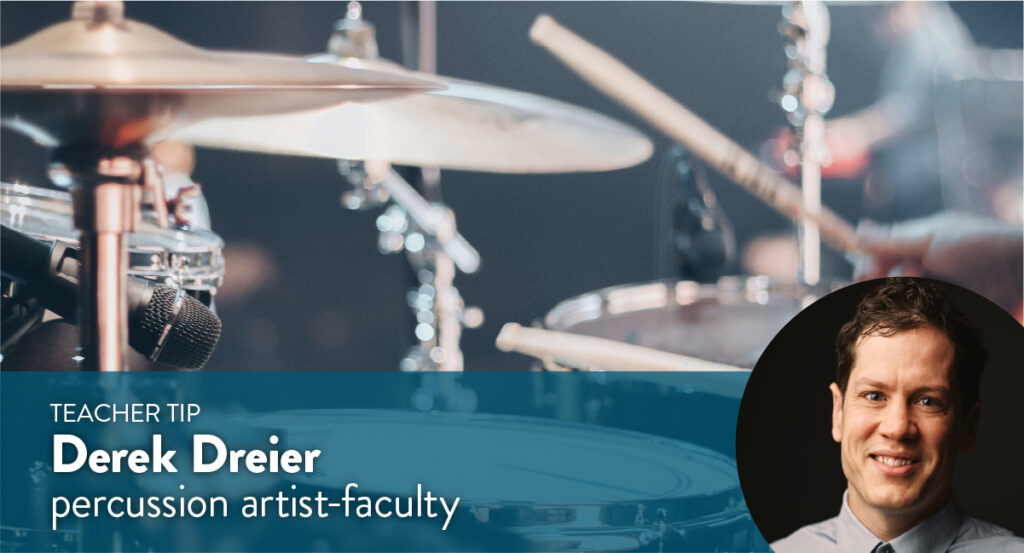 Provided by Derek Dreier, percussion Artist-Faculty
Improvise. The (1, 2, 3…9) nine-letter word seldom uttered in conservatory hallways and yet an invaluable, perhaps necessary pedagogical tool.
The word can have negative connotations (The
Grinch was a nasty improviser) but the ability to articulate a concept in your own words is
essential to mastering the subject. "Just make things up? Anything?" Well, yes and no.
First, consider how often we improvise every day; in conversation, in scheduling, in justifying another episode instead of getting to work. Most of us are naturally gifted improvisers already. When applied musically, however, the notion to create on your own, spontaneously, is vulnerable and can be a difficult space for students, eh, humans, to sit in. Which means it's good to do!
In order to ease the hesitation, it's helpful to apply structure. Try any of the following to get started:
Rhythmic improvisation – single note, vary rhythm.
Melodic improvisation – rhythm stays the same, notes change.
Dynamic improvisation – loud to soft, single note, consistent rhythm.
Orchestrational improvisation – sound discovery..pizz, sound effects, non "musical"
tones, etc.
Phrasing improvisation – take notes from a passage and apply a variety of phrasing
applications
Style improvisation – improvise in the style or genre of a piece.
Wrong note improvisation – especially helpful for the perfectionist types.
Mix and match, create your own, the possibilities are endless…
Many problems in music are perceptual in nature, so to change the way you play it's important to develop many ways to think. Encouraging improvisation, regardless of instrument or genre, develops this independence of thought, as well as an ownership of material, a personal confidence and ultimately a depth of musicality that will lead to exceptional music making.