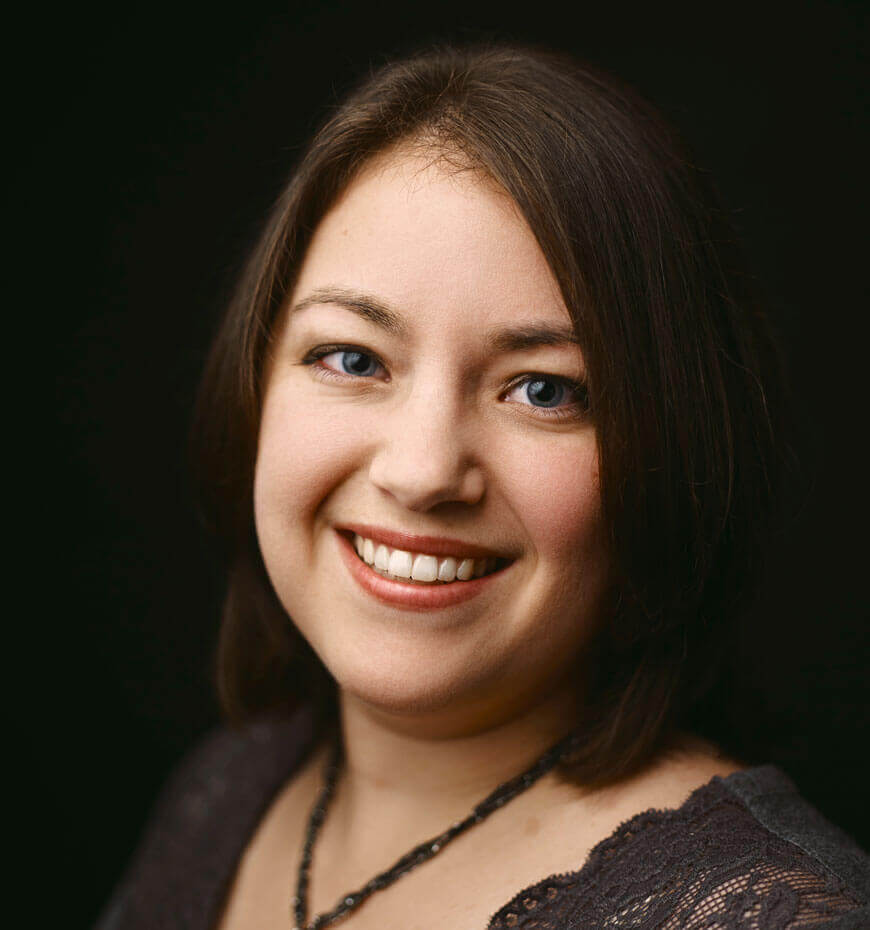 Artist-Faculty
Tammy Miller
Piano
Pianist Tammy Miller enjoys a multi-faceted career as a soloist, collaborative artist, educator, composer, and researcher. She has given presentations, recitals, and masterclasses at colleges, universities, and prestigious concert venues throughout the U.S. and abroad. Her performances have captivated audiences through her unique programming choices and deeply personal interpretations. Her musical interests include supporting the music of living composers, underrepresented music from the 19th and 20th centuries, and music from the Americas and France.
While she was a student, Ms. Miller received over a dozen cash prizes for her participation in local, state, and regional competitions, both as a pianist and vocalist. Notable awards include being a finalist in the 2013 Musician's West Young Artist Piano Competition and a semifinalist in the 2014 Naftzger Young Artist Piano Competition, among many others.
Ms. Miller has appeared in recitals and commercial recordings with principal instrumentalists from the National Symphony Orchestra, San Fransisco Symphony, and Orquesta Sinfónica Nacional of México. In June 2018, she made her Kennedy Center debut (D.C.) in a duo recital with famed contraforte soloist, Lewis Lipnick. She has previously given collaborative recitals with Mr. Lipnick in a tour across the Midwest and at the 2017 International Double Reed Society Conference at the Lawrence Conservatory. She has served as a staff pianist for Nebraska Wesleyan University and the University of Nebraska Omaha.
As a concerto soloist, Ms. Miller has appeared alongside the Symphony of the Vines (CA), Westminster College Symphony (PA), Orchestra Omaha (NE), Oklahoma Composers Orchestra (OK), Dordt University Symphonic Band (IA), and the Lakeland Civic Orchestra (OH). She has had the pleasure of working under the direction of accomplished conductors such as Dr. Kenneth Meints, Dr. Melinda Crawford Perttu, Dr. Daniel Baldwin, and Dr. Matthew Saunders.
As part of a growing repertoire of newly commissioned works, Ms. Miller has commissioned and given the world premiere performances of piano concertos by Daniel Perttu (2019), Daniel Baldwin (2018 & 2020), and Eric Ewazen (2023). She has received additional works that were written for her by composers such as Libby Larsen, Noelia Escalzo, and William F. Montgomery. To further her mission of supporting the works of living composers, Ms. Miller co-founded the National Composers Orchestra and Chamber Music Series in 2020. The organization is dedicated to promoting the works of living composers through live performance, recordings, collaborative partnerships, and educational outreach.
​
As a composer, Ms. Miller has written music primarily for voice and piano. She has completed a song cycle titled "Sea Songs" for mezzo-soprano and piano. The cycle is a collection of four songs based on the sea and is set to poetry by Sara Teasdale. She has also written stand-alone art songs set to the poetry of Elizabeth Bishop and Langston Hughes. Her largest work to date is her 20-minute-long song cycle, "Learning to…" written for soprano and piano. The collection was the subject of a 166-page dissertation "A Performance Guide to Tammy Miller's Learning To… A Song Cycle on the Experience of Grief in Five Poems by Mary Oliver" (2021). She is currently working on an "Album for the Young" for piano solo which was commissioned by Dr. Ivan Hurd and the University of Texas – San Antonio.
As a passionate educator, Ms. Miller has taught students in both individual and group piano lessons at the collegiate and pre-collegiate levels. Her students have won prizes at the Omaha Music Teachers Association Young Artist Competition, Nebraska Music Teachers Association State Competition, Omaha Music Teachers Association Senior Scholarship, and KVNO Classical Kid. Her students have been accepted to music programs at prestigious colleges and universities such as the University of Nebraska Omaha, University of Nebraska Lincoln, University of Missouri Kansas City, University of Colorado Boulder, and University of South Dakota.
In 2022, Ms. Miller was a proud recipient of the "Yamaha 40 under 40" award. "Yamaha launched the "40 Under 40" music education advocacy program to celebrate and recognize outstanding music educators who are making a difference by growing and strengthening their music programs." (Yamaha) Recipients of this award are chosen based on their demonstration of four key characteristics – action, courage, creativity, and growth. Ms. Miller is one of two piano teachers across the nation that has received this distinction.
At the Omaha Conservatory of Music, Ms. Miller has been an advocate for the Keyboard Explorers program. She oversees the program in an official capacity as the "Keyboard Explorers Liaison". She has selected the curriculums for all the keyboard class offerings, keeps the lab technology up-to-date, creates new program initiatives, and maintains current scholarship of trends in group piano pedagogy. Ms. Miller was the recipient of the conservatory's September 2021 "Above and Beyond" award which she received because of the nomination of her students. She has held previous teaching appointments at the University of Oklahoma, Iowa Western Community College, and Idaho State University Preparatory Piano Program.
Ms. Miller earned a performance degree with concentrations in piano and voice from Idaho State University (B.M.) and a piano performance and pedagogy degree from the University of Oklahoma (M.M.). Her primary teachers included Dr. Kori Bond, Virginia Willard, Karen Kushner, Dr. Paul Barnes, Dr. Jeongwon Ham, and pedagogy studies with famed pedagogue Dr. Jane Magrath. She currently resides in Omaha, Nebraska where she is artist-faculty at the Omaha Conservatory of Music. Ms. Miller is also proud to be a Polyphony Artist.
What you can expect in lessons with Tammy:
A unique, fun, and creative approach to music making through yearly studio challenges
Lessons that are student focused and centered around building on each individual's strengths and learning goals
A holistic approach that builds skills in performance, sight-reading, ear-training, theory, composition, technique, and artistry.
Lessons that are taught with both patience and passion with the goal of helping each student to reach their greatest potential.
Back to All Artist-Faculty