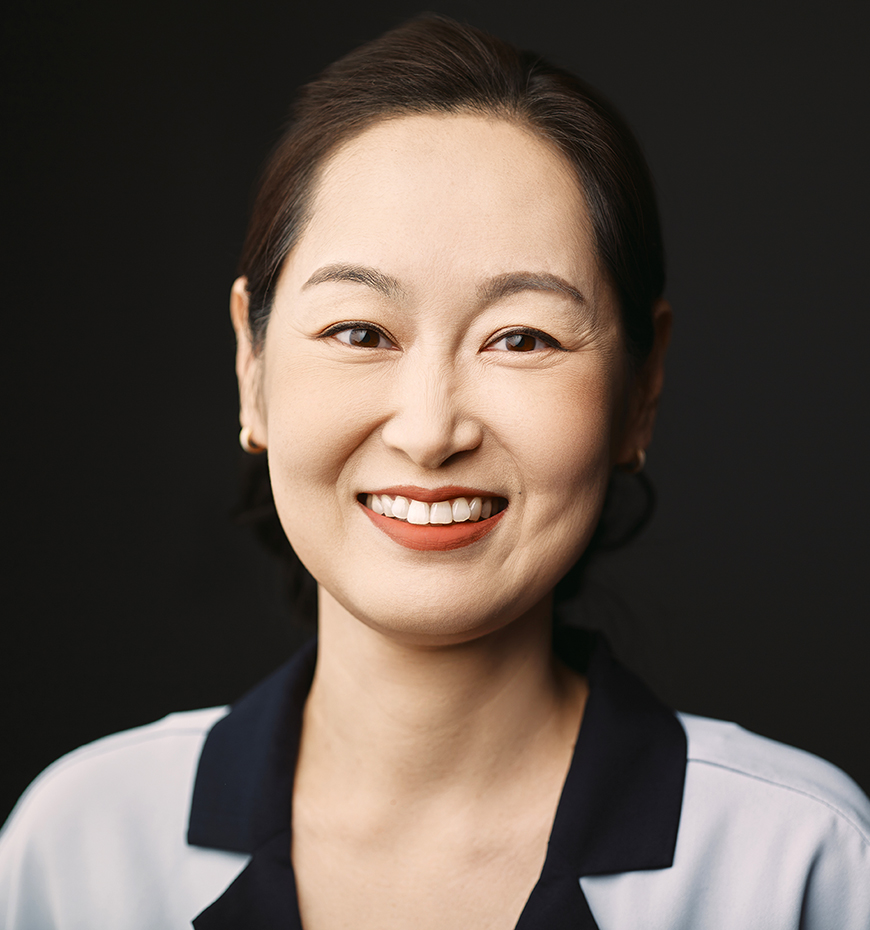 Artist-Faculty
Kyu-Youn Butler
Piano, Suzuki
A recipient of the Marina Grin and the Classical Music Awards, Kyu Butler is an accomplished pianist. Kyu received 1st prize awards from many competitions including the Chosun Daily News Co. Music Competition, Korea Times Music Competition, The Korean National Students Competition, Samick Piano Competition, Choonchoo Piano Competition, Monthly Music Magazine Competition, Yookyoung Students Competition, and the University of Illinois Symphony Concerto Competition. Kyu performed at masterclasses for legendary pianists such as Leon Fleisher, Aldo Ciccolini, Menahem Pressler, Yefim Bronfman, Vladimir Feltsman, Boris Slutsky, and others in the United States, Europe, and Asia. Kyu is an active performer who has performed on prestigious stages such as the Krannert Center for Performing Arts, Seoul Arts Center, and Carnegie Hall. Kyu received her Bachelor of Music from The Korean National University of Arts' School of Music. Here she studied with Mr. Choong-Mo Kang, a former faculty member of the Juilliard School in New York City.
Kyu received a Master of Music in piano performance from the San Francisco Conservatory of Music, where she studied with Mack McCray. She also received her Professional Studies Diploma in Early Historical Keyboards with emphasis on Fortepiano from the Conservatory. Kyu has doctoral training at the University of Illinois at Urbana-Champaign with full scholarship. Here she studied with the renowned pianist and conductor Dr. Ian Hobson. Butler completed a Piano Pedagogy Internship with one of the famous Piano Pedagogy scholars, the late Dr. Alexander Reid, and also worked as an opera coach, Teaching Assistant, and Accompanying Assistant at the University of Illinois.
While Kyu is an active performer, she also has passion and energy to contribute to music education. Kyu is an Artist-Faculty in piano at the Omaha Conservatory of Music, President and Artistic Director of the World Piano Teachers Association USA-Missouri, Immediate-Past- President of St. Louis Area Music Teachers Association, an internationally acclaimed clinician who has regularly given masterclasses, an active pedagogue and researcher on Alternatively- Sized Piano Keyboards, and frequently invited adjudicator at local and international competitions, auditions, and exams.
Prior to working as an Artist-Faculty in piano at the Omaha Conservatory of Music, Kyu worked as an adjunct faculty at Jefferson College, Community Music School of Webster University, and St. Louis Community College. Kyu also worked as the Recruitment Coordinator at Webster University. Her students have won local and nation-wide competitions, festivals, exams, and auditions. Kyu became a NCTM (Nationally Certified Teacher in Music) in piano and has been certified as an Elementary and Intermediate Specialist by the Royal Conservatory of Music in Canada.
Kyu's current research focuses on preventing injuries and wellness for pianists. This focus is influenced by her personal experience. Butler's work was selected for presentations at the Music Teachers National Association's National Conference in Spokane WA, and at the National Conference on Keyboard Pedagogy in Chicago IL in 2019. Kyu's presentation was well received, and resulted in an invitation to write a paper for MTNA E-Journal that was published in September, 2020. Kyu also presented her work at the World Piano Conference virtually in 2020, and the virtual Korean Association of Piano Pedagogy Conference in 2021.
Kyu has an international reputation. She was invited to conduct masterclasses and a lecture at Kasetsart University in Bangkok, Thailand in 2019 and Illinois Wesleyan University in 2020. Kyu was also invited to give a talk to Piano Teachers' Round Table members virtually and Costa Rica International Piano Festival in 2021.
Kyu has also actively engaged in representing local music teachers and organizing annual auditions at the state level. She is Immediate-Past-President of the St. Louis Area Music Teachers Association. Kyu is the founding President and Artistic Director of World Piano Teachers Association USA-Missouri, which is affiliated with the World Piano Teachers Association in Europe. She served as a Co-VP of Missouri Music Teachers Association 2015- 2021.
Kyu is also a member of Music Teachers National Association, Nebraska Music Teachers Association, Omaha Music Teachers Association, The Korean National Association f Piano Pedagogy, and The Pianissimo – The Musical Arts Association of Korea.
What to expect in lessons with Kyu:
Personalized piano method for each individual student among Russian, Traditional, & Suzuki methods
Music theory learning as "grammar in music"
Customized learning experience for students who are goal-driven learning or simply taking lessons for pleasure
Participate in events that match each student's level (non-competitive through competitive) outside of OCoM such as NMTA Auditions, MTNA Competitions, Guild Auditions, Federation Festivals, and RCM Exams.
Structured and balanced curriculums in piano, music theory, ear training, and sight-reading and establishing routines for practice and homework.
Back to All Artist-Faculty